Book Review: Sherlock On Screen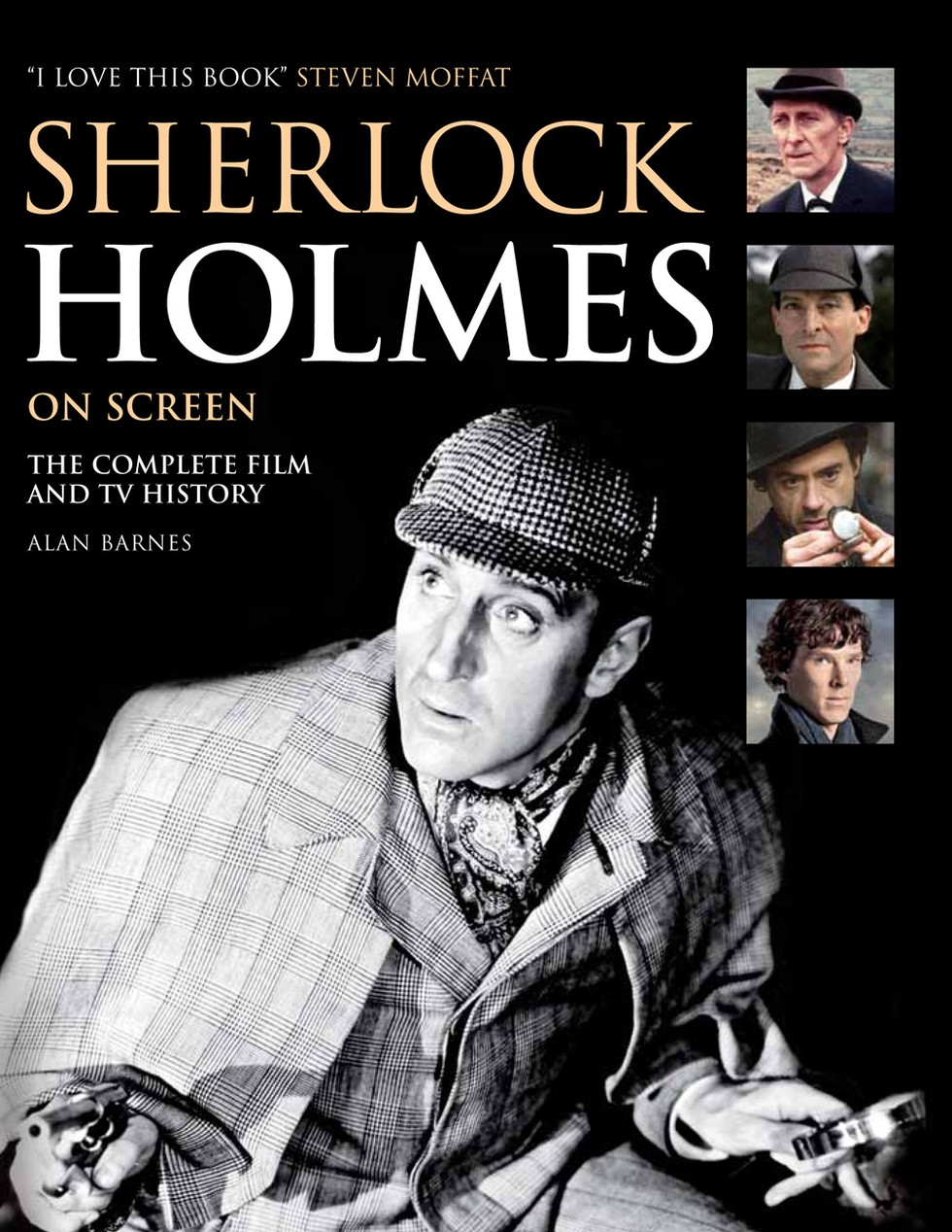 It's sad to admit, that the expression "Don't judge a book by its cover," exists because people gravitate toward books with flashy designs and testimonials on their covers.  Publishing companies cram as many positive blurbs on there as possible, because they know one of the best ways to drive sales is by word of mouth.  
What's really refreshing though is when you see a book like Sherlock on Screen by Alan Barnes, which lets the subject matter speak for itself.  Its cover is stylish yet simple.  There are photos of various famous actors who have portrayed Sherlock Holmes on film and television over the years: Basil Rathbone, Peter Cushing, Jeremy Brett, Robert Downey Jr., and Benedict Cumberbatch. 
The only tribute you'll find on this book's cover comes from Steven Moffat, creator of the BBC series "Sherlock." You have to applaud the minimalism that publisher Titan Books uses when choosing Moffat's words: "I love this book." This statement not only conveys emphatic approval, but it does so from a reliable source that fans of Holmes would be familiar with. 
Moffat's words of praise don't end there, since he also provides the foreword to Sherlock on Screen. In his foreword Moffat states, "Authenticity is for textbooks, and you'll be glad to know that's not what you're holding in your hands." 
We can agree on the first point Mr. Moffat, although not your second one. Authenticity is for textbooks; although it does feel like you're holding one when you pick up Sherlock on Screen. The large paperback features plain black and white photographs, as well as a two column text format similar to a professor's assigned material.  This style can be a bit daunting for the reader, because it seemingly doubles the written content you must absorb on each page.   
Barnes writes in erudite language your teacher might use when lecturing on the subject, another stumbling block to digesting some his points.  For instance, Barnes critiques the Jeremy Brett Sherlock Holmes chapter "The Disappearance of Lady Frances Carfax," like so, "Where this seems eminently practical in dramatic terms- pleasing, even, given the sumptuous location filming at Derwent Water in Cumbria- the reason for turning Doyle's 'rather pathetic' Lady Frances into a feisty, skiff-sailing adventuress-of-sorts is less comprehensible."
Aside from the format and the language, Barnes impresses with his in-depth research and comprehensive analysis of the Holmes's appearances in television and film.  Similar to an encyclopedia, Barnes explores Holmes adaptations alphabetically.  In this way, Sherlock on Screen, struggles to find a rhythm, making it more of book to flip through casually than one you take from cover to cover.
Alan Barnes tends to have the most fun with the material when discussing some of the lesser known Holmes guest spots in cartoons, and spin-off type series like "The Baker Street Boys," which follows the famous children that Holmes enlisted to help solve some of his mysteries.  These types of Holmes adaptations are engaging to both the casual reader and Sherlock aficionados because they are amusing and represent the character's universal appeal.
Anyone who can't get enough Sherlock Holmes should definitely pick up a copy of this book.  You'll get a chance to revisit some of your favorite adaptations, and become acquainted with his less famous incarnations, like his portrayal by Roger Moore and Jonathan Price.  The casual reader won't be disappointed by the depth of the material, but he or she may experience a harder time getting through it.