Bono: 'Spider-Man Is 90% Perfect'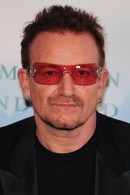 U2 stars Bono and The Edge have revealed their Broadway musical Spider-Man: Turn Off The Dark is only 90 per cent finished as the curtain rises on the much-maligned spectacular.

The show closed in March following a series of problems and producers have revamped the music and storyline and addressed safety concerns. In the process, they parted ways with director Julie Taymor.

And the rockers are glad the production is back onstage - even though it's not quite perfect yet.

Bono says, "We're 10 per cent away. The next few months we'll have gotten it to a place where Edge and myself will stop criticizing."

And his bandmate adds, "We're so close to being able to sign off on it."

The musical will officially open on Broadway on Tuesday night after multiple stalled starts.