Bono Set To Earn $1Billion From His Facebook Investment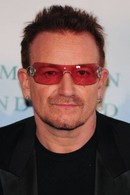 U2 rocker Bono looks set to become a billionaire thanks to his shares in Facebook.com.
 
The frontman's investment company Elevation Partners, which he co-founded with former Apple boss Fred Anderson, spent a huge $210 million buying up shares in the world's top social networking site in 2009 - and the gamble has paid off.

After Facebook was valued at a $65 billion earlier this week, Bono's portion of the company has been boosted to a cool $975 million.

U2 are already one of the world's highest-earning groups, pulling in more than $736 million on their recent 360 Tour.