Bono Helps Courtney Love Land New New York Condo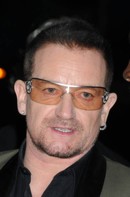 U2 star Bono has helped Courtney Love land a condominium in New York's trendy Nolita neighbourhood - she used his name as a reference.

The Hole rocker now has a new Manhattan address after being evicted from a West Village townhouse - and she has the "One" singer to thank.

Bono wrote her "a paragraph" after her new landlord asked her for a character reference.

Love tells the New York Daily News she loves her new pad, but admits she has already upset another tenant - a pregnant neighbor complained about the noise she was making.

She explains, "I've never gotten a noise complaint. It sounds really lame, being a rock star and all... It's all good now."