'Bones' Star Emily Deschanel Previews 'The Shot in the Dark'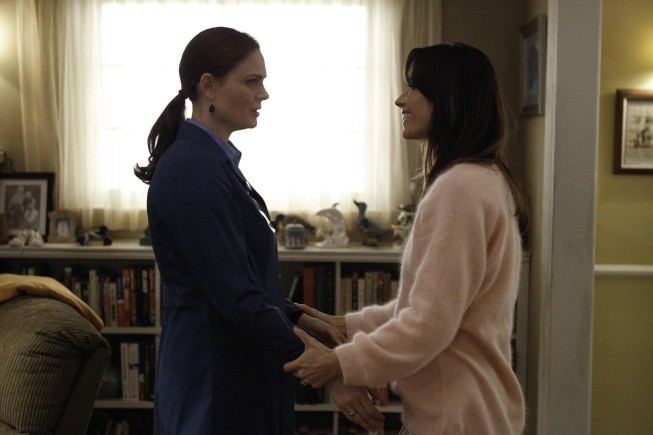 "When you've lost a parent, you just want to be able to call them up on the phone and say, 'How do I cook that thing you used to make for me, how do I do this, what did you do with me when I was a child, how am I supposed to do this as a parent?' and just life skills," Deschanel said. "Especially when you have a child yourself, you go back and think about how you were parented, how you were mothered, what your parents did for you, and you just want to be able to call them and ask them.

"I think that's a huge thing that Brennan is not talking about. It's got to bring up so much for her when she's giving birth and she's lost her mother, and just trying to figure out how to be a good parent and not having that resource of her mother. It also brings back so many memories and makes her miss her mother. It's quite fitting that this issue that she's dealing with, in a way, causes her to see her mother again and hopefully helps ease those pains that she's dealing with because doesn't have her mother around."
But Brennan won't be the only person affected by the events of the episode. As her life hangs in the balance, the situation will touch her partner and boyfriend Booth, as well as her father (guest star Ryan O'Neal). "I think it brings up a lot of emotions for everybody," added Deschanel. "Booth and [Brennan's] father believe that they are losing [her]. [O'Neal] gives a wonderful performance.

"Then there's something revealed from [her] mother to [her] father. Just kind of a breakthrough in a way for him, It's an emotional episode for his character. He does a beautiful job and there's a communication between my mother and my father through my character."
The actress added that "The Shot in the Dark" was a moving episode for her to film, and that she hopes audiences respond to it. "It was very emotional, especially with scenes between the mother [and Brennan]," she said. "I have played this character for a long time. I've built in my mind who my mother is and was to me. It was quite emotional to do these scenes, and to shed light on Brennan as a teenager and her relationship with her mother.
"I think anyone who's human who's lost somebody that they love, or even hasn't but can imagine that - I think it's kind of a universal thing that you just want to see that person one more time, and here, Brennan has that chance," she continued. "It's something that you always wish for when you've lost somebody. She gets this opportunity and that's so incredible. If we've done it right, hopefully people will be affected by it."
"The Shot in the Dark" airs tonight at 8 PM ET/PT on FOX.
For more from Brittany Frederick, visit my official website and follow me on Twitter (@tvbrittanyf).
(c)2013 Brittany Frederick. Appears at Starpulse with permission. All rights reserved. No reproduction permitted.