'Bones' Star Emily Deschanel Previews 'The Shot in the Dark'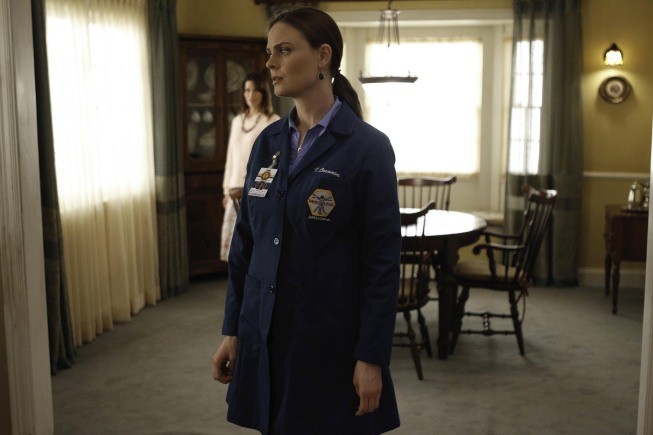 Tonight's episode of Bones, "The Shot in the Dark," is a major one for the long-running FOX series. After an incident in the Jeffersonian lab, Dr. Temperance Brennan gets a chance to come face-to-face with her past, quite literally. BFTV recently spoke with Brennan herself, star Emily Deschanel, about what happens in "The Shot in the Dark" and what it means for Brennan, Booth and audiences.
(SPOILER ALERT - This interview contains spoilers for tonight's episode of Bones.)
"After watching the episode, I think that viewers will have a better idea of why Brennan behaves in the way that she does, is kind of hyper-rational and has cut off her emotions in many ways, even though she's over the last few years opened up after knowing Booth," explained the actress. "It shines a light on her behavior and maybe encourages her to change a bit."
The episode sees Brennan hospitalized - and while she's fighting to recover, the anthropologist has a long overdue conversation with her late mother (guest star Brooke Langton). "She's transported to her childhood home, and she sees her mother," said Deschanel. "Her interactions with her mother reveal things from her past, and also it affects Brennan now, encourages her to have a different perspective on her behavior."
"It's an interesting thing to do a series for this long and to play a character that things are revealed at eight years in," she continued. "I felt like it was in line with things that I had in mind, and it didn't contradict anything that I had kind of imagined for her past, but it's certainly new information to me, and I really enjoyed doing the episode because it shed light on Brennan and her past.
"I also really enjoyed having the interaction with her mother. That's always been kind of a huge missing piece for Brennan, her mother being gone and being able to talk to her mother about how she disappeared before she died and all of that.

"Brooke Langton did such a great job, and I really enjoyed working with her. She's just very inventive as an actor, very giving, and it was a really good experience working together. It felt right to have her play my mother, and I really enjoyed that."
Like her character, Deschanel is herself a mother, and shared her insight on what Brennan is going through as a new parent without her own mom in the picture. "The minute you become a parent, I think that you're always going to wonder if you're doing something wrong, and I certainly experience that on a daily basis," she said. "You have to trust your instincts and do what feels right for you."
"Brennan is going through that in the beginning of this episode," she continued. "Booth and Brennan have a fight. Brennan believes that Booth is criticizing her parenting style, and runs out and ends up in the lab again at night to go finish working on this case. It's quite fitting that Brennan is dealing with her own issue of being a mother herself and, at the core of that, is missing her own mother."