'Bones: Season Three - Totally Decomposed Edition' Hits DVD Nov. 18

Dig into a world of crime scenes, decayed remains, murder investigations and more with seven unlikely colleagues as
Bones
Season Three – Totally Decomposed Edition exhumes its way onto DVD November 18th from Twentieth Century Fox Home Entertainment.
The suspenseful procedural drama stars actress and co-producer
Emily Deschanel
(
Glory Road
,
That Night
) as Dr. Temperance Brennan, a brilliant, highly-skilled forensic anthropologist with a lack of social courtesy, and TV icon
David Boreanaz
(
Angel
) as F.B.I. Special Agent Seeley Booth, who despite mistrusting science and scientists, forms an improbable bond with the socially awkward doctor. Together with Dr. Brennan's colleagues, including artist Angela Montenegro (
Michaela Conlin
;
Enchanted
), young genius Dr. Zack Addy (
Eric Millegan
;
The Phobic
), insect expert and conspiracy theorist Dr. Jack Hodgins (
T.J. Thyne
;
The Phone Book
), coroner Dr. Camille Saroyan (
Tamara Taylor
;
Lost
) and therapist Dr. Lance Sweets (
John Francis Daley
;
Freaks & Geeks
), they investigate the disturbing realities of true crime.
Featuring all 15 full-hour episodes from Season Three and four bonus episodes from Season Four on a five-disc DVD set, "Bones" Season Three boasts exclusive bonus features including three extended episodes, gag reel, an extended kiss scene between Booth and Bones, and director's takes.
Dr. Temperance Brennan and Special Agent Seeley Booth, along with colleagues Angela Montenegro, Dr. Zack Addy, Dr. Jack Hodgins and Dr. Camille Saroyan, find themselves on the trail of a serial killer who discards his many victims' remains off freeway overpasses. Brennan also must deal with the trial of her father for the murder of the Deputy Director of the FBI.
"Bones" Season Three DVD is presented in wide screen with English 5.1 Dolby Surround Sound and Spanish Dolby Surround Sound with English, Spanish and French subtitles. The following episodes and special features are exclusive to each disc: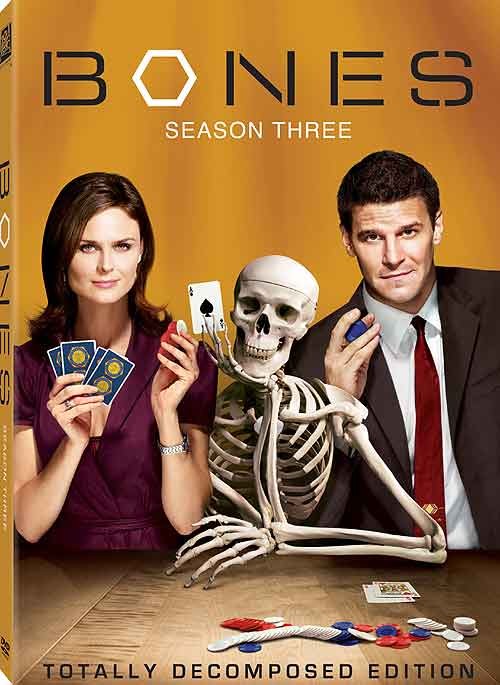 Disc One:
• "The Widow's Son in the Windshield"
• "Soccer Mom in the Mini-Van"
• "Death in the Saddle"
Disc Two:
• "The Secret in the Soil"
• "Mummy in the Maze"
• "Intern in the Incinerator"
• "Boy in the Time Capsule"
Disc Three:
• "The Knight on the Grid" (Extended Episode)
• "The Santa in the Slush" (w/ Extended Kiss Scene)
• "The Man in the Mud"
• "Player Under Pressure" (Extended/Original Cut)
Disc Four:
• "The Baby in the Bough" (Extended Episode)
• "The Verdict in the Story"
• "The Wannabe in the Weeds"
• "The Pain in the Heart"
Disc Five:
• "The Yanks in the UK" Part 1
• "The Yanks in the UK" Part 2
• "The Man in the Outhouse"
• "The Finger in the Nest"
Click the pics for gallery & larger images