'Bones' Review 9.7: Watch Out, Buenos Aires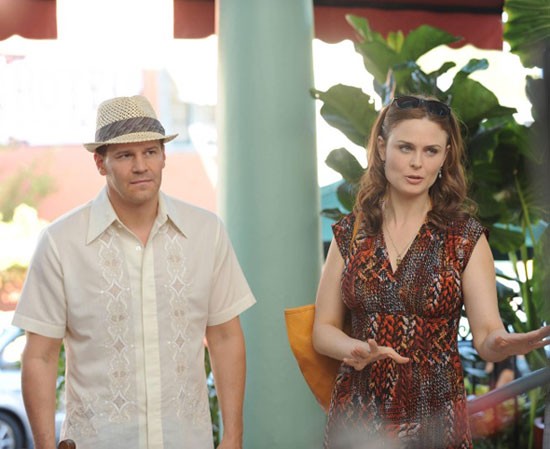 A nice light Bones 9.7 last night as we found our newly married couple on their honeymoon in Buenos Aires.  But as is always the case with Bones, there's profundity undergirding the frivolity and making for an altogether satisfying episode.

Bones of course can't resist getting involved in a bones case in Buenos Aires, and Booth's resistance melts with the flattery he receives from the many who recognize his greatness in Argentina.  How does that happen?  Well, we're treated to another episode in which Bones' work as an author of forensic science detective fiction figures in the story - novels in which Bones and Booth are both characters under other names, and in the case of Bones, with the always fine meta-touch that her character is named Kathy Reichs, who of course is the author in real life of the books upon which Bones the television show is based.   There's just no better example of such meta-twistery on television.

Meanwhile, the murder to be solved is that of a Nazi in his 90s who's bludgeoned to death by a bar of his ill-gotten gold.  The suspects are plentiful, and, for once, I was mostly fooled as to who did the murder until close to the very end.

But my favorite part of the story, old softy and sentimentalist that I am, were Angela and Hodgins taking care of taking of Christine while Bones and Booth are in South America, along with their own little boy Michael.  The kids of course keep them up, the couple are sleep deprived and grousing, but in end agree that they both want another baby.

So, once again, Bones proves to be about death only on the surface.  Deep down, the series is one of the best celebrations of life and its joys you're likely to see on any screen.