Bon Jovi Perform America The Beautiful At New York Fire Station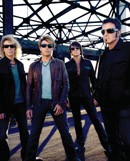 Bon Jovi have taped a stirring performance of "America The Beautiful" at a New York City fire station for an upcoming TV tribute to the victims of 9/11.

The footage is part of the NFL "Kickoff 2011: Back to Football" special, which aired Saturday night.

Kid Rock, Maroon 5 and Lady Antebellum will also appear as part of the hour-long show, aimed at marking both the new football season and the 10th anniversary of the 9/11 terrorist attacks.

But while Rock, Maroon 5 and country trio Lady Antebellum taped live performances outside Lambeau Field in Green Bay, Wisconsin before Thursday's Green Bay Packers home opener against the New Orleans Saints, Bon Jovi filmed a much more low-key set.

The rock band's rendition of "America the Beautiful" at Engine 8, Ladder 2, Battalion 8 recreated a performance by the group 10 years ago, following 9/11.