'Body Of Proof' Star Mary Mouser Talks Season 3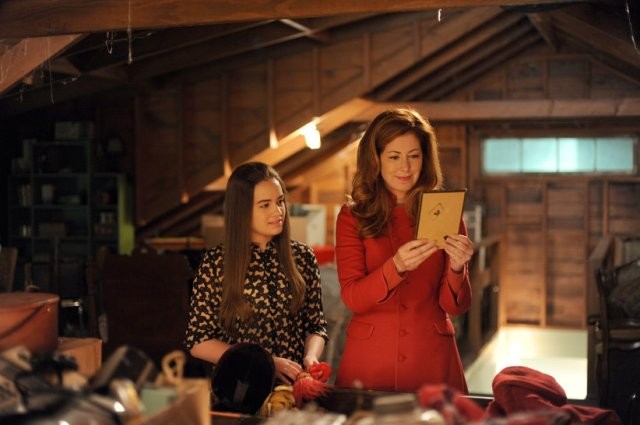 ABC's Body of Proof has been on a roll with its reinvigorated third season - so BFTV checked in with Mary Mouser, who plays Dr. Megan Hunt's daughter Lacey Fleming, to see how different the show really seems and if the cast has any idea whether or not ABC is going to bring the show back for another season.
Season three has been a time of change for fans, with the exit of some cast members, the addition of others and some rather unique plots, but Mary said it doesn't feel like a different series. "To me I guess it really doesn't," she told us. "It does when I'm watching it, but even with the new cast members it automatically felt like home. It felt like family.
"It's been so cool having the new cast members [Mark Valley and Elyes Gabel]," she continued. "I was kind of nervous at first. I was expecting them to be great, but they've been above and beyond - to work with, to watch work, and to get to know as people."
Something else new this season is the mystery surrounding the death of Lacey's grandfather, which was thought to be a suicide but now looks like murder. Does Mary know who the culprit is? "I get the scripts, even the episodes I'm not in, [but] I purposely made myself not read the answer," she confided. "I'm going to be waiting to see like everyone else!"
And although playing the daughter of the main character means that she doesn't get to solve murders or bust bad guys, Mary's still found a way to be part of the action - Lacey was kidnapped in the third-season premiere (which featured Southland's Shawn Hatosy as one of her kidnappers). "I think getting kidnapped was really fun," Mary said with a laugh, adding that she also enjoys poking around Megan's office. "I like getting involved in the action. I'd have a lot of fun with Lacey getting into some trouble."
As we approach the end of Body of Proof's season (the finale is slated to air May 14), there's one burning question, and that's if the cult favorite but never quite ratings hit will come back for more. Has Mary heard anything about whether or not she'll be playing Lacey for a fourth season? Not yet, but "With the people that we work with, it's always a positive atmosphere," she said. "This past season has been so positive. Everybody's looking forward, everyone's excited. Everyone put so much into the season."
Aside from loving her job, Mary also has a much more personal tie to her character. Like Lacey, Mary is type 1 diabetic, and she's currently working with the Juvenile Diabetes Research Foundation (JDRF). Tomorrow night, she'll be at the JDRF Los Angeles "Finding A Cure: A Love Story Gala," which helps to raise money for type 1 diabetes research. For more information on the JDRF and tomorrow's gala, visit the organization's website.
Body of Proof returns Tuesday, May 7 at 10 PM ET/PT on ABC. You can also keep up with Mary on Twitter (@MaryMMouser).
(c)2013 Brittany Frederick. Appears at Starpulse with permission. All rights reserved. No reproduction permitted. Visit my official website and follow me on Twitter at @tvbrittanyf.