Body Of 17-Year-Old Girl Found At Queen Elizabeth's Norfolk Estate Proving To Be A Royal Murder Mystery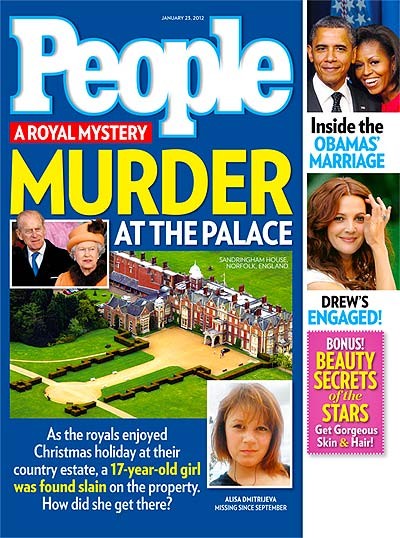 As the Windsor clan enjoyed Christmas holiday at their country estate, a 17-year-old girl was found slain on the property. How did she get there? This week's issue of PEOPLE magazine examines the Royal mystery at the Queen's beloved Sandringham retreat as police race to find answers in the brutal killing. Just yards away from where Queen Elizabeth, flanked by her trusty black Labradors, stalked pheasant and partridge with her party, there was prey of a ghastly sort: the decomposing remains of a teen girl. "The body," says Detective Chief Inspector Jes Fry, "had been there for some time."

The corpse would be discovered on New Year's Day by a roving dogwalker – devastating the family of the young woman later identified as 17-year-old Alisa Dmitrijeva and shattering the serenity of the Queen's beloved personal retreat in Norfolk. "Sandringham's almost a sacred place for the Queen," says royal author Judy Wade of the country home where the Queen's father, George VI, spent his final days. The whole family – including Prince William and Kate, Prince Harry and Princesses Beatrice and Eugenie visited the estate to celebrate the season together – a royal tradition since King George V gave the first holiday radio broadcast there in 1932. "This has marred it, tainted the atmosphere." Adds Ingrid Seward, editor-in-chief of Majesty magazine: "It was shocking for everyone."

So how did a young Latvian immigrant find her way to the 31-sq.-mile grounds of Sandringham? The discovery of the body was the first major break in the case of Alisa, who had been living 24 miles away in Wisbech, Cambridgeshire, and was reported missing by her grandmother Lidija Nesterova on Sept. 6. Alisa had come to Britain two years ago along with her father, Olegs, 40, and sister Victorija, 10; their mother, Anzela, 34, had moved a year earlier and found work at a food-processing plant, Anzela told a British newspaper. But change took its toll: The parents separated, and Alisa chose to live with Olegs and Lidija. "She was always a very happy girl," a Wisbech pub owner tells PEOPLE of the bubbly teen who would stop by to play pool with her pals. "She was no trouble at all. She was just a normal, lively young girl."

But the family began to see a more troubled side emerge: Initially enrolled in college and struggling to learn English, Alisa began to stay out all night, Lidija told The Times. She took drugs and got arrested for stealing, Anzela said. "She changed so much," Anzela told the Mail on Sunday. "We'd been arguing badly." Now police are racing to figure out what happened to Alisa. She was last seen shortly after midnight Aug. 31 in King's Lynn, 10 miles from the estate, getting into a green Lexus with two men. Detectives believe she was killed between that day and Sept. 6, when the Queen was in residence at Balmoral, her retreat in the Scottish highlands. (Officials will not confirm whether any other members of the royal family were at Sandringham at the time.) They have ruled out shooting and stabbing as the causes of death; how – and why – exactly she was murdered remains a mystery.

While they work the case, the Queen is doing her stoic best for the rest of her stay at Sandringham, where she traditionally marks the anniversary of her father's death Feb. 6. "This is a special place for her in the early months of the year," Seward says. With the many joys 2011 brought – none greater than the wedding of William and Kate – and with the new year filled with excitement over the Queen's Jubilee marking 60 years on the throne in June and the London Olympics in July, the macabre start to 2012 was not a welcome one.

"She had such a wonderful year," Wade says. "This is like a bad omen."


*Also In This Week's 'People'*

Drew Barrymore & Will Kopelman – Engagement Bliss!
Beyonce & Jay-Z Baby Joy: "They Will Love This Little Girl So Much"
Madonna: "I Had Dinner With Prince Charles Once. He Stole Lettuce Off My Plate"
Ryan Gosling & Eva Mendes: "Ryan Loves That Eva Isn't Prissy. She's Like A Dude"
Adele's New Guy!