Bobby Brown Planning Reality TV Series About New Edition Comeback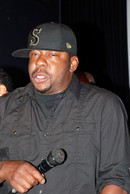 Fallen R&B icon Bobby Brown is hoping to turn grown-up boy band New Edition's comeback into an uplifting reality TV show.

The "My Prerogative" singer insists relations between himself and all the members of the "Candy Girl" hitmakers are better than ever, thanks to weekly telephone prayer sessions - and he'd like to capture the positive energy in a new TV series.

Brown tells Hustler magazine, "We have a conference call every Sunday. We're putting it (band) back together.

"I think the thing that was missing with us was prayer - us being able to pray together and understand our differences. I think that's what made us fight so much.

"Our friendship was lost once the business of being in the band exploded. We're now working at becoming friends again and getting back together next year for a tour and an album. And maybe a television show."

If his ideas go to plan, it won't be the first time Brown's life has featured on TV - his Being Bobby Brown series captured family life with ex-wife Whitney Houston.