Bobby Brown Honors Whitney Houston At Post-Funeral Concert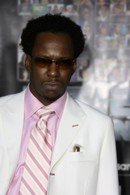 Bobby Brown paid tribute to his ex-wife Whitney Houston on stage at a gig in Connecticut just hours after he walked out of her funeral on Saturday.

The late singer's famous friends and family members gathered at a church in Newark, New Jersey to honor her memory, but Brown was seen leaving the service after just 20 minutes.

He subsequently released a statement blaming his premature departure on seating issues, and he took to the stage with his New Edition bandmates in Connecticut later that evening as planned.

During the show at the Mohegan Sun Arena, Brown took a moment to remember his ex-wife and received a standing ovation from the crowd as he raised a finger to the sky and said, "Blessings to my ex-wife, Whitney Houston. I love you," according to E! Online.

He is due back on stage at the Newark PAC venue in New Jersey on Sunday.