Bob James Readies New Album For February Release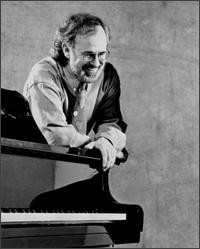 Bob James
, Grammy Award winning musician/composer/arranger, is set to release his highly anticipated new album "Urban Flamingo" on KOCH Records on February 21st, 2006. "Urban Flamingo" is James' follow-up to his critically acclaimed 2004 solo label debut "
Take It From The Top
" (click for review). Continuing seamlessly with his fine art of collaboration, which has produced legendary recordings with such artists as
Earl Klugh
,
David Sanborn
and the mega popular supergroup
Fourplay
, "Urban Flamingo" features Bob with his Michigan-based quintet of bassist Al Turner, drummer Ron Otis, guitarist Perry Hughes and saxophonist
David McMurray
.
With "Take It From The Top," James, who relocated to Michigan after years in Westchester County, New York -- returned to the vibe of his early '60s recordings with a trio date featuring bassist James Genus and drummer Billy Kilson. That trio performs "Urban Flamingo's" traditional jazz minded "Niles Ahead," but the core of the new ten-song collection features more funk, jazz and pop spirited grooves. Key tracks featuring this latest "James Gang" are the lively and percussive "Choose Me," the mystical, slightly off meter "Skidaway," a sensuous and smooth request to "Make It More Blue" and "Bobary Coast," which crisply blends James' R&B and swing jazz sensibilities. The bluesy, fusion-tinged (with a touch of classical piano) title track and bright, vibrant "Wingapo" feature Turner and Otis keeping rhythm and edgy electric guitar solos by Wayne Gerard. Longtime James fans will also be delighted by two very familiar faces -- his daughter, singer
Hilary James
, and bassist
Nathan East
, James' cohort in Fourplay. The soulful Phil Ramone-Michael Colina produced vocal ballad "Lay Down With You" beautifully recaptures the joyful spirit of father and daughter's 1995 classic duet album "Flesh and Blood." On the elegant, Eastern flavored "Endless Time," East's famous basslines and wordless vocals are caressed by a mystical harmony created by the Chinese er-hu.
Like his contemporaries Earl Klugh and David Sanborn, Bob James -- who will be honored with the "George Benson Lifetime Achievement Award" by the Canadian Smooth Jazz Awards in April, 2006 -- was putting the "smooth" into jazz over a decade before there was an official radio format for it. Along the way, he inspired several future generations of musicians who realized they didn't have to decide between jazz and R&B -- they could do both. The Marshall, Missouri native chose jazz first, bopping with his own trio at the University of Michigan and later New York City before being discovered by Quincy Jones at the Notre Dame Jazz Festival in 1963. He launched his recording career that year with "Bold Conceptions," but didn't really take off till he started collaborating in New York with artists in
Creed Taylor
's CTI stable, including
Hank Crawford
and
Grover Washington, Jr
. James recorded four albums for the label before moving to CBS and forming his own imprint, Tappan Zee Records -- which he kept even after signing with Warner Bros. in the mid-'80s.
While establishing himself as a contemporary jazz giant via his solo albums and "One On One," his first of three dual albums with Klugh, James achieved pop culture icon status via his memorable "Theme From Taxi," which was originally "Angela," a cut on his album "Touchdown"; James later wrote all the music for the famed TV series. Although tracks like "Maputo" from "Double Vision," his Tommy LiPuma produced, Grammy winning dual album with David Sanborn, established James as a presence in the emerging smooth jazz format, he also expanded his artistic reach in the '80s with three classical albums for CBS Masterworks.
Sessions for the 1990 album "
Grand Piano Canyon
" evolved into Fourplay, the band featuring James, East, drummer
Harvey Mason
and guitarist
Lee Ritenour
(who left the band in 1998 and was replaced by
Larry Carlton
), which has been a major force in contemporary jazz for over 15 years. In the odd numbered years when James isn't recording and touring with Fourplay, he's constantly seeking fresh new collaborators. Before hooking up for the trio project "Take It From The Top," he released "
Dancing On The Water
" (2001), which featured
Keiko Matsui
,
Joe Sample
,
Dave Holland
and
Chuck Loeb
; and "
Morning, Noon & Night
" (2002), which paired him with Loeb and hit smooth jazz producer (and fellow wine connoisseur)
Paul Brown
.
"I feel the same about the band on 'Urban Flamingo' as I do when I think about those on all of my projects over the years," states James. "I've had the incredible opportunity to work with the highest level artists and musicians in the world, and this has been as much a privilege as a challenge. I always feel lucky to be in the same room as these brilliant talents, but I'm also always hoping I can hold up my end. People have tried to find a name for the eclectic music I make, but I just see myself as a jazz musician, period. If I'm making music that's hard for people to simply categorize, then I'm doing what I set out to do."