Bob Geldof Is Nobel Prize Winner For "Man Of Peace"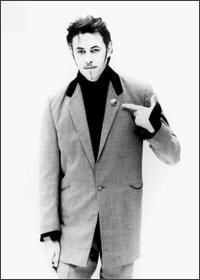 Sir Bob Geldof
has been named this year's 'Man of Peace' by the winners of the Nobel Peace Prize. The former
Boomtown Rats
star was honored for his "outstanding contribution to international social justice and peace".
The Live 8 organiser will be presented with his award by former Soviet leader
Mikhail Gorbachev
at the World Summit Of Nobel Laureates in Italy next month. The 54-year-old said: "I am overwhelmed and deeply proud to receive this award from such an esteemed and exceptional collection of individuals."
The star also claimed the prestigious award reaffirmed the huge impact of the Live 8 charity concerts, which were staged all over the globe to raise awareness of world poverty earlier this year.
He added: "It's almost too big - all the Nobel Peace Prize winners voting for you as their Man of Peace. I feel weird. It reaffirms the progress made by Live 8 and the Make Poverty History
campaign."
Related Links:
Sir Bob Geldof On Starpulse
Boomtown Rats On Starpulse
Mikhail Gorbachev On Starpulse