'Boardwalk Empire' Sneak Preview 4.7: Beds, Promotions, Surprises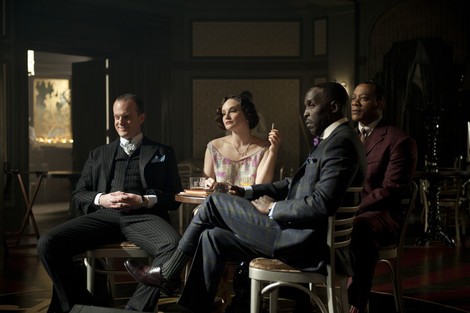 Continuing with my sneak preview reviews of Boardwalk Empire - this one of 4.7 - courtesy of screeners from Starpulse, guaranteed to be specific spoiler free, and to be followed this Sunday with a proper recap/review right after the episode has aired in New York City, just up the road from A.C.

We get one killing at the beginning of 4.7 - a bullet in the head - but it's of someone we've seen for the first time, as far as I know.  Of far more importance to history and our continuing story is the go-ahead that someone gets near the end of the episode to eliminate a major supporting character.

Meanwhile, down in Washington DC, we see J. Edgar cementing his position - his appointment as head of the Bureau is now official - but taking credit for the work of his staff.  In reality, Hoover's relationships with his underlings - including his alleged sexual relations with second in command Clyde Tolson - are under debate by historians.  But Hoover's interest even in the 1920s in hunting down Communists rather than organized gangsters is pretty well documented, and well portrayed in Boardwalk Empire.

Back up the coast in New York we have a surprising scene in which Margaret meets someone from her past, whom we know very well.   The scene is played from Margaret's point of view - we see this character when she does, and since he's not previously identified and not in the usual context in which we're accustomed to seeing him, we feel Margaret's palpable surprise.  It's a good piece of filmmaking, and underlines the cinematic quality of all of Boardwalk Empire.

The good loving we saw in the previous episode continues - with Gillian looking like she's embarking on the best relationship with a man we've seen in the entire series, and Chalky really enjoying himself with Maitland.   But there's a surprise punchline to Chalky and Maitland, which comes at the very end of the episode.

And I'll be back here this Sunday night with a more detailed review of this episode after it airs on HBO.