'Boardwalk Empire' Season 4 Episode 4: Bullies And Betrayals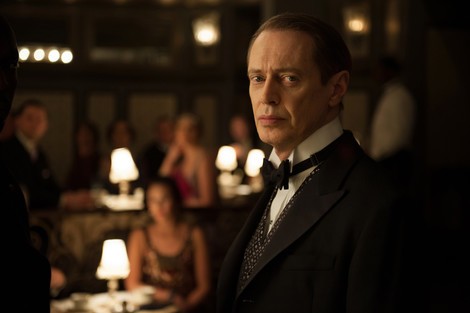 Few ended up with smiles on their faces in Boardwalk Empire 4.4 - which made it a more grim than usual episode, but also one which moved the story along quite well and to unexpected places.

Perhaps the biggest shock was the unexpected arrest of Eddie at the end. J. Edgar Hoover, who's moving into a position as Nucky's #1 governmental adversary, is tasking his Feds to crack down on organized crime. Something is not 100% right about Eddie, anyway, and Nucky has been lacing his sarcasm with an almost tenderness towards his main valet and aide-de-camp. This means that Nucky will be especially aggrieved when he learns of Eddie's fate.

Next, we find Arnold Rothstein in about the worst shape we've seen in the entire series, in a high stakes card game in which Nucky extends Rothstein copious credit, which he loses when the cards are put on the table. Meyer Lansky is also at the table, and although he later extols Rothstein to Nucky as the legendary "A.R.," Meyer also happily suggests himself as an investing partner for Nucky's new Florida operation when Nucky indicates that he no longer wants Rothstein. We also get a great exposition of Meyer's childhood, and how he became friends with Lucky Luciano after not giving in to Lucky's bullying.

Meyer's betrayal of Rothstein is mild and potential. Purnsley's betrayal of Chalky to Narcisse is classic and real - an underling seeing a chance for himself and figuratively knifing his boss in the back. It will be interesting to see what becomes of this. Presumably Chalky will find out and eliminate Purnsley - but how much damage to Chalky will first be done, and how will Narcisse play in all of this? This story has room for surprise and unforeseen turns, seeing as how these characters - certainly Chalky and Purnsley - have much less footprint in our real history, as in none, than do Rothstein and Lansky. In Rothstein's case, we know he'll be eventually murdered, though Meyer and Lucky's role in that is not clear, either.

And then we have Eli's son Willie, who's also been subjected to ridicule and bullying - but the result of that is far worse that what happened with Meyer and Lucky. Willie puts together a concoction to embarrass his tormenter - by giving him an urgent upset stomach - but the brew winds up killing the bully. Eli, who was getting ready to take over the A.C. business with Nucky's blessings as Nucky plans to go to Florida, will have his hands full.

And I'll be back here in a few days with my sneak preview non-spoiler review of Boardwalk Empire 4.5.