'Boardwalk Empire' Season 4 Episode 10: Family Treachery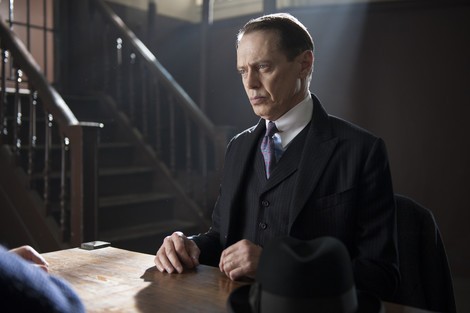 Family treachery - the disloyalty of family members to the boss - has been a staple in crime drama movies, presented to greatest effect in The Godfather (I and II) and Casino.   Episode 4.10 looks like it's bringing Boardwalk Empire into that territory.

Eli is caught in the perfect storm, or the agonizing space between a rock and a hard place.   He wants to save his son.  He'll do just about anything towards that end.  But the last thing he wants to do is betray Nucky, especially after Nucky took him  back - somewhat unbelievably - the last time.  It was a little hard to believe that Nucky would ever trust Eli completely again.   And now the Feds have are giving acute expression to that doubt.

What will Eli do?  As was made clear in this episode, lying to Feds won't buy him much time - they'll learn he is lying and come back to him with even more pressure.   I'm thinking the only way out of this for Eli is to tell Nucky what's going on.   At this point, no real damage has been done to Nucky, which means he's likely to be furious at Eli for even going this far with the Feds, but ultimately forgiving of his brother.

Short of such honesty from Eli, there are not many ways out of this.   Willie or Eli could die.  So could Nucky.  Willie is the least essential to the show.   Eli is more essential, but less essential than was Jimmy, who was taken off the show in that stunning ending a few years ago.  Will Boardwalk Empire go that way again?  I sort of doubt it.   And knocking off Nucky would completely undercut the show, not to mention what little connection our Nucky Thompson has to the real-life Nucky Johnson, the A.C. crime boss who died in 1968.

The only way out for Eli, as far as I can see, is J. Edgar completely calling the Feds off the case.  We've already seen signs of this.   But I think that would be a little too easy an out for Eli.

Which means the vice will continue closing, providing even more edge-of-your-seat viewing in the final two episodes of this excellent season.