Bo Derek Supports Shark Fin Ban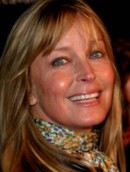 Actress and animal activist Bo Derek has thrown her support behind a California bill to prevent the sale and possession of shark fins.

The Tommy Boy star joined protesters at the state Capitol on Monday to raise awareness about a new law that aims to ban any selling or trading shark parts.

Derek branded the farming "a global environmental crisis".

The bill has been passed by the California state Assembly, but has yet to be finalized.