Bly-ray Review: 'The Lion King' (Diamond Edition)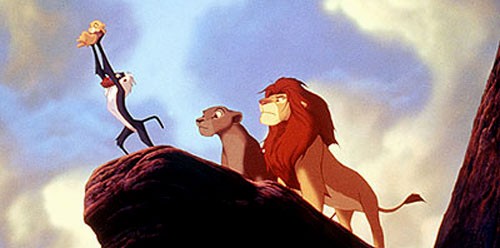 Can't 'Wait to be King'?  Ready to get your 'Circle of Life' going?  Ready to 'Be Prepared' with a relaxed 'Hukuna Matata' attitude?  Well then check out the review of the lush looking 'Diamond Edition' of the Blu-ray release for the Disney classic "The Lion King" below!  (Will it 'feel the love tonight' – stay tuned!)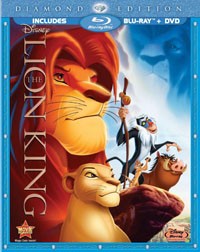 Title: "The Lion King" (Diamond Edition)
   Grade: 4 1/2
   Cast: Voices of Matthew Broderick, James Earl Jones, Jeremy Irons
   Director: Roger Allers & Rob Minkoff
   Rating: G
   Runtime: 88 minutes
   Release Company: Walt Disney Home Entertainment
   Website: www.DisneyBlu-ray.com  
The Flick: It's amazing how even for 1994, Disney was still willing to tackle bold animation moves like having it's leading man die.  It sounds a tad morose, but I loved the dark of "The Lion King" and it's also what gives the shining light of the film so much more brightness to sing about.  And the songs are legendary, but it's the critters that make them come to life.  Nathan Lane's lazy meerkat Timon, Rowan Atkinson as uptight yellow-billed Horbill Zazu and even Cheech Marin and Whoopie Goldberg as hyena goofs all provide extra comic and musical zeal.  But the light, dark, fun and fear of this Disney outing each provides an own amount of nourishment to help complete this movie meal fit for a king.
Best Feature: Much like the film itself, there is something for young and old.  Think 'Disney Sing-A Long Mode' for kids (okay, maybe I hummed a few bars!) and 'Disney Second Screen' for Adults (technology meets toons!).
Best Hidden Gem: Nathan Lane almost steals the show as the sassy and fast-talking meerkat and keeps it real – real hairy!
Worth the Moola: Diamonds may be forever, but this one probably won't be for long, so nab it already before they put it in that dark Disney vault.  The songs, the scenes and the sentiment – dressed for a 'blu' tie affair.