Blues-Rock Trio Back Door Slam To Release Debut CD This Summer; Tour With Rusted Root

Blix Street Records, best known for the catalog of recordings by the late
Eva Cassidy
, has signed dynamic young blues-rock trio
Back Door Slam
and will release the band's debut recording,
Roll Away
, in early summer, with distribution in the U.S. through Ryko.
Hailing from the United Kingdom's Isle of Man-- hardly a bastion for the blues-- Back Door Slam is fronted by 20-year-old singer, songwriter and guitar prodigy Davy Knowles, and has already begun to develop a following in the U.S. via high profile performances at SXSW in Austin and the Beale Street Music Festival in Memphis. From the same Running Media Group management stable as multi-platinum Grammy nominee
Corinne Bailey Rae
, they recorded the album at the Isle of Man's DAM Studios with RMG's Dave Armstrong producing.
One of the season's most compelling debuts,
Roll Away
finds Back Door Slam displaying its powers of what has been described as "Back To The Future Blues" on a diverse program of tough rockers, moving ballads and cleanly executed blues. Highlights include the guitar-driven opener "Come Home," the dark
Albert King
-styled "Heavy on My Mind," rock-funk groover "Takes a Real Man," and the album's one cover song, the highly-charged "Outside Woman Blues." "Too Good for Me" is a quiet, change-of-pace piece featuring mandolin and guitar; it is more folk than blues, more
Bruce Springsteen
than
Stevie Ray Vaughan
. "Stay" is a powerful paean to a fallen comrade (the band's original rhythm guitarist, Brian Garvey, killed in an auto accident in 2004), while the title song, a reflective, largely acoustic track with Celtic overtones, deals with a young man's love of his safe, idyllic home and his need to break away for the uncertainties of the world beyond.

Back Door Slam's name comes from the
Robert Cray
blues classic, and Cray's influence and that of other blues greats like
Eric Clapton
,
John Mayall
,
Rory Gallagher
, early
Fleetwood Mac
plus the late Stevie Ray Vaughan imbues their intoxicating, guitar-driven sound. Knowles, who also writes most of the songs, first picked up the guitar at age 11 after hearing
Dire Straits
' "Sultans of Swing" on his father's cassette. Skipping the usual three-chord songbook approach to learning the instrument, he taught himself to play the classic song in its entirety and, in doing so, also discovered his destiny.
After hearing Back Door Slam at SXSW in March, 2007, Patrick MacDonald wrote in the Seattle Times: "I heard the spirit of Jimi Hendrix coming from the open, streetside windows of a joint called B.D. Riley's. It was 'Red House,' executed superbly by a surprisingly young trio called Back Door Slam, from the Isle of Man in the U.K. The club was packed and so was the street outside. Folks were transfixed by this kid on guitar, who played with a fiery spirit and sang with conviction, making the song his own."
Thousands more folks will likewise be transfixed by Back Door Slam as it barnstorms through the U.S. this summer and fall. A 12-city tour with Pittsburgh jam-rockers Rusted Root commences on July 5, taking them to the following cities: July 5-Summerfest, Milwaukee; 7-Aggie theater, Fort Collins, CO; 8-Ogden theater, Denver; 9-Belly Up, Aspen; 11-Marquee theater, Tempe, AZ; 12-House of Blues, San Diego; 13-Hard Rock Hotel and Casino, Las Vegas; 14-House of Blues, Los Angeles; 16-The Depot, Salt Lake City; 17-Fox theater, Boulder; 19-Voodoo at Harrah's, No. Kansas City; and 20-Old St. Pat's Church Block Party, Chicago. The trio follows the Rusted Root tour with more dates of their own throughout the summer-including the Mercury Lounge in New York City on July 26-culminating with a featured slot at the Austin City Limits Festival on September 15.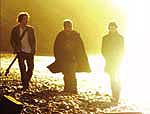 "Davy Knowles and his group just blew me away," says Bill Straw, president of Blix Street Records. "Great artists don't grow on trees, and it can take years for the next one to come along. We were in the right place at the right time and are proud to be involved as Davy, Adam and Ross hit the ground running."
Tour Dates (Supporting
Rusted Root
):
July 7th Aggie Theater Fort Collins, Colorado
July 8th Ogden Theater Denver, Colorado
July 9th Belly Up Aspen, Colorado
July 11th Marquee Theater Tempe, Arizona
July 12th House of Blues San Diego, California
July 13th Hard Rock Hotel &Casino Las Vegas, Nevada
July 14th House of Blues Los Angeles, California
July 16th The Depot Salt Lake City, Utah
July 17th Fox Theater Boulder, Colorado
July 19th Voodoo at Harrah's N. Kansas City, Missouri
July 20th Old St Pat's Church Block Party Chicago, Illinois