Blu-ray/DVD Review: 'A Clockwork Orange 40th Anniversary Edition' & 'Never Apologize'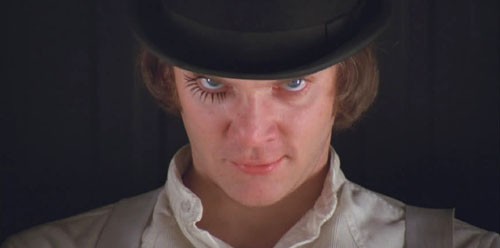 Ready for "a bit of the old ultra-violence?"  We here at Starpulse certainly are and to help celebrate the anniversary of the droogian Kubrick classic we're taking an in depth look at the new to Blu-ray "A Clockwork Orange 40th Anniversary Edition."  Plus we'll give our two cents on the new one-man show doc via Malcolm McDowell called "Never Apologize" that's making its U.S. debut – both available May 31 from Warner Home Video.  So grab your bowler hat, cod piece, single fake eyelash and a glass of the old miloko plus – we're gonna sharpen you up and get you ready for these two new releases.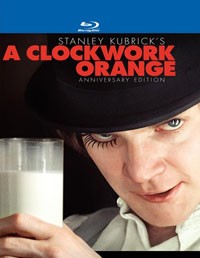 Title: "A Clockwork Orange 40th Anniversary Edition"
   Grade: 5
   Cast: Malcolm McDowell, Patrick Magee, Adrienne Corri
   Director: Stanley Kubrick
   Rating: R
   Runtime: 137 minutes
   Release Company: Warner Bros.
   Website: www.warnerblu.com  
The Flick: Do you really need a review of this film at this point?  For those who don't see the beauty, brutality and over dark black comedic tone of Kubrick's best film, I feel sorry for you.  "A Clockwork Orange" is a visual storyteller at the peak of his cinematic prowess and his controversial film still packs a punch today.  And so iconic has Malcolm McDowell's Alex, the droogs, milk plus, 'Singing in the Rain,' lovely Ludwig Van and hogs 'o' the road become that they're all forever ingrained in the brain as a staple of classic cinema.  The best director, the best actor, the best film – bar none.  
Best Feature: First off, Mr. McDowell has never talked all that much about Clockwork – until now. (He even dons the bowler hat man!) And picking from his heavily involved multitude of five-star extras like Malcolm McDowell Looks Back (they put out a table of memorabilia and let the stories fly!) and Turning Like Clockwork (which delves deep into the cultural impact of the flick!) is like asking which of your kids you like best.  But for my bread it just doesn't get any better then the full-length commentary by McDowell himself, who talks motivations (when asked by Kubrick why he raised a toast in the opening shot, McDowell replied that he was letting the audience know they were "in for one hell of a ride!"), on-set antics (he really peed in the bathroom scene!), funny revelations (during the droogs in water scene he talks of how "filthy" the water was and proclaims, "Thank God I didn't have to go in!") and chases it all down with a plethora of Kubrick stories and insights.  I've died and gone to Corova Milk Bar heaven.
Best Hidden Gem: The second disc not only has the formerly hard to get Stanley Kubrick: A Life in Pictures (that examines EVERY Kubrick movie!), but a can't miss doc on McDowell where we get insight from his kids (he wanted his son to watch Clockwork – when he was ten!), former wife and "Time After Time" co-star Mary Steenburgen (he whispered to her that her he loved her right before a take!) and directors like the late Robert Altman – utterly fascinating.
Worth the Moola: Is the violence ultra?  The milk plus?  The visit surprise?  The BEST version sound, picture and extra wise of "A Clockwork Orange" that even purist Kubrick himself would hawk all other previous versions for.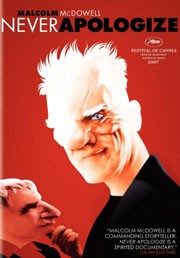 Title: "Never Apologize"
   Grade: 4
   Cast: Malcolm McDowell
   Director: Mike Kaplan
   Rating: Not Rated
   Runtime: 111 minutes
   Release Company: Warner Bros.
   Website: www.warnervideo.com  
The Flick: As a stand-alone piece for the uneducated and unfamiliar Malcolm McDowell first-timer, this one might be a tough sell.  But for those who are avid supporters, film geeks or just simply looking for even more supplements to various McDowell works this one is a must.  It's a look at his various films and experiences during his time with legendary director Lindsay Anderson and it's a tribute to their incredible working relationship.  From his first audition for "If…." (he got into an actual physical fight with the fellow actress Christine Noonan after a kiss!) to fixing film time length issues on "O Lucky Man" (a film reel fell on the floor – brilliant cut!), McDowell has some tall tales to tell.  And he does so with exuberance and gusto that reminds us why he's such an endearing performer in the first place – class and sass with white hair.
Best Feature: No features – but as an addition to the above Clockwork set it's an extra have-to-have!
Best Hidden Gem: Hearing that Anderson told McDowell if he wanted to work with him again he'd have to come up with a good story – and McDowell did.
Worth the Moola: If you like stories from the set of a master craftsman and is director muse, don't apologize for picking this one up.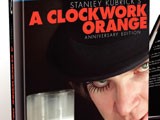 Contests:
WIN! Signed "Never Apologize" Blu-ray Or "A Clockwork Orange" Blu-ray
Click To Enter >>