Blu-Ray Spotlight: 'Doctor Who,' 'Futurama,' 'Simpsons,' 'Star Trek,' 'Wolverine'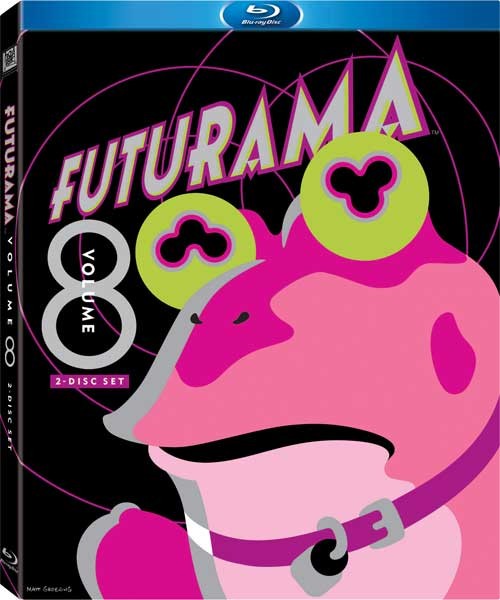 If you're a fan of the sci-fi genre, you've had a great few weeks in the home video department. Doctor Who, Futurama, The Simpsons, Star Trek: The Next Generation and The Wolverine have all hit Blu-Ray since November. Here are our capsule reviews of all the new releases, so you can decide which ones deserve a place on your shelf. All hail the Hypnotoad!
Doctor Who: The Day of the Doctor
Just a few weeks after its global simulcast and special theatrical release, BBC Home Entertainment has made the Doctor Who 50th anniversary special available in a Blu-Ray 3D/Blu-Ray/DVD combo pack. The primary reason to own this is for the special, which looks and sounds great on Blu-Ray; the special features aren't anything to write home about.
There's Doctor Who Explained, a featurette on the history of the show that's just under an hour, but most Whovians will know a lot of what's presented. The Behind The Scenes featurette is a nice peek with all the actors and writer Steven Moffat, and the previously released mini-episodes are included here. It adds up to a special you'll watch over, but special features that don't have a lot of replay value.
Futurama: Volume 8
The last thirteen episodes of Futurama can now be brought home courtesy of Fox. That's the second half of season 7, from "Forty Percent Leadbelly" to series finale "Meanwhile." There are some great installments in here - "T: The Terrestrial" makes wonderful use of the Omicronians again, for example - and some not so much.
Whatever you think of the episodes, though, the bonuses are as plentiful as ever. There's commentary on all thirteen installments, plus a bonus animator track for "Game of Tones," a batch of deleted scenes, and peeks inside both the writers' room and animators' process. The only bummer is a lack of any sort of series-sendoff featurette, which would've been a nice touch. The environmentally friendly cardboard packaging might also frustrate some collectors, as it's easy to damage.
(For those of you who haven't been collecting the past releases, a Complete Series set also arrives on the same day as Volume 8.)
The Simpsons: The 16th Season
It's not sci-fi, but if Futurama wasn't enough Matt Groening for you, Fox has also given us a new season of The Simpsons, this one with Professor John Frink on the cover.
This is the 2004-2005 season, including such episodes as "Homer and Ned's Hail Mary Pass," where Homer ends up choreographing victory dances for the likes of Tom Brady and LeBron James. (Bonus episodes from seasons six and eleven are also included here, but if you're buying this set, we're going to guess you probably already have seasons six and eleven.)
Like Futurama, you get a good sense of what goes into the making of the show with this set. Again, every episode has commentary. Plus, there's a table read for "Thank God It's Doomsday," deleted scenes, sketch galleries, and a few other random extras thrown in there. It's nice to see a show like this where owning the home video version is really an experience in and of itself.
Star Trek: The Next Generation Season Five
CBS Home Entertainment has consistently done an excellent job in bringing TNG to Blu-Ray, and this latest release is no exception. Season five includes the introduction of Michelle Forbes as Ro Laren ("Ensign Ro"), the return of Wesley Crusher ("The First Duty"), and an appearance from Leonard Nimoy as Spock (in the "Unification" two-parter).
Once again, the Blu-Ray version is head and shoulders over the DVD release in terms of video and audio quality. This set ports over the bonuses that were on the DVD set, but there are less new special features than previous seasons (which is understandable considering we've been through four volumes already). There are two featurettes, one about the music of TNG and another retrospective, plus four commentary tracks.
But there could be no special features at all and we'd still tell you to buy this one. This is the definitive way to watch your Next Generation, and now we're just two steps away from having the complete series. (One wonders if we'll see a Blu-Ray Complete Series eventually.)
The Wolverine
This second attempt at a Wolverine solo adventure fares considerably better than X-Men Origins: Wolverine. It's the movie we wanted the first time. Hugh Jackman is, as always, excellent in the title role, James Mangold is a great choice as director, and there's a good enough mix of action and acting to satisfy fans of both those aspects.
There are a few dark scenes in the movie that are still a tad bit dark for our taste in the Blu presentation, but otherwise, it's a solid transfer. Bonus-wise, the major special feature is the multi-part Path of a Ronin featurette, which is basically your "making of." An alternate ending isn't groundbreaking, and then there's a tease for the upcoming X-Men: Days of Future Past.
It's the flick that carries this release. This is a good, entertaining movie that improves upon its predecessor. It's hard to recommend this release, though, because Fox has also put out an Unleashed Extended Edition which has 12 minutes of additional movie and that, as of this writing, only costs $3 more than this theatrical-only version. If you're going to invest in The Wolverine, go all the way.
(c)2013 Brittany Frederick. Appears at Starpulse with permission. All rights reserved. No reproduction permitted. Visit my official website and follow me on Twitter at @tvbrittanyf.