Blu-ray Reviews: 'Flatliners' / 'Last Action Hero' / 'Anaconda' / 'Donnie Brasco' / 'Gridiron Gang'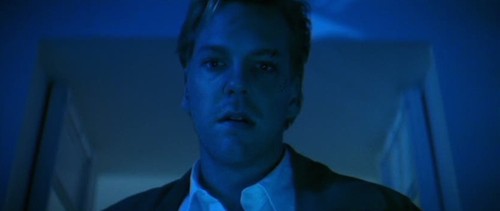 Classics hitting Blu-ray – we're review ready!  We're checking out five of the latest in old school flicks now on Blu-ray from Mill Creek Home Entertainment.  Up for discussion – "Flatliners," "Anaconda," "Donnie Brasco," "Gridiron Gang" and "Last Action Hero."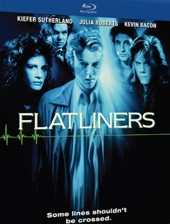 Title: "Flatliners"
   Grade: 4
   Cast: Kiefer Sutherland, Julia Roberts, Kevin Bacon
   Director: Joel Schumacher
   Rating: R
   Runtime: 114 minutes
Definitely one of the coolest flicks of 1990, Joel Schumacher hit his stylistic stride with "Flatliners."  Not to mention that the premise is original (let's die to see what comes next!), the camp is in full swing ("today is a good day to die!") and the cast is a virtual who's who of hot at the time.  (Kiefer Sutherland pre-"24," Julia Roberts, William Baldwin, Kevin Bacon and the ever-funny Oliver Platt!)  Yes, there are some cheddar moments and stretching of plausibility, but when you're too cool for school reality be damned.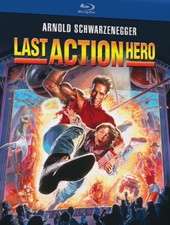 Title: "Last Action Hero"
   Grade: 3 1/2
   Cast: Arnold Schwarzenegger, F. Murray Abraham
   Director: John McTiernan
   Rating: PG-13
   Runtime: 130 minutes
This was a film that caused quite a stir back in 1993 as a major flop and disappointment for then superstar Arnold Schwarzenegger.  But I say re-watch this wonderful comedic send up of all the traditional action staples again and its joy might take you by surprise.  Under the ample direction of "Die Hard" and "Predator"
helmer John McTiernan, "Last Action Hero" was a flick was ahead of it's time with cool cameos (is that Sharon Stone in "Basic Instinct" mode?!), funny images ("T2" starring...Sylvester Stallone?!) and a cast you wouldn't expect.  (F. Murray Abraham – he killed Mozart!)  Fun, fun, fun.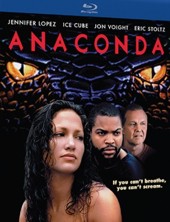 Title: "Anaconda"
   Grade: 3
   Cast: Jennifer Lopez, Ice Cube, Jon Voight
   Director: Luis Llosa
   Rating: PG-13
   Runtime: 89 minutes
"Anaconda" is a 'what you see is what you get' flick with city folks battling a giant anaconda.  The only surprising element here is the over-the-top pure camp character of snake hunter Paul Serone played by Jon Voight that adds pure mozza to the mix.  The rest is a so-so mix of folks eating snake dirt and in fighting amongst the human snacks.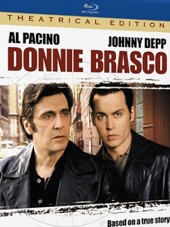 Title: "Donnie Brasco"
   Grade: 3
   Cast: Johnny Depp, Al Pacino, Anne Heche
   Director: Mike Newell
   Rating: R
   Runtime: 125 minutes
Excellent acting is what ultimately saves "Donnie Brasco" from being another dim and dull drama.  As the torn FBI Agent undercover, Johnny Depp provides a wonderful character conundrum of a guy out to uphold the law who gets seduced by the underworld, while Al Pacino's gangster provides the allure of being a made man.  Not exactly the most original story on the planet, but with these two going toe-to-toe who cares?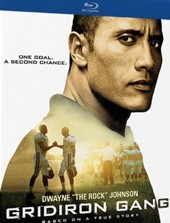 Title: "Gridiron Gang"
   Grade: 2 1/2
   Cast: Dwyane "The Rock" Johnson, Kevin Dunn, Leon Rippy
   Director: Phil Joanou
   Rating: PG-13
   Runtime: 125 minutes
A paint-by-numbers drama featuring The Rock as a probation officer looking to make a difference through football – "Hoosiers" this ain't.  There are a ton of these unoriginal flicks both bad (see, or rather don't see Keanu Reeves' flick "Hardball!") and good (I still like the Goldie Hawn vehicle "Wildcats!") but it's not a wonder that "Gridiron Gang" fell through the cracks.  Clichéd material has a shelf life.