Blu-Ray Review/Interview: Ti West On 'The Innkeepers' Hitting Home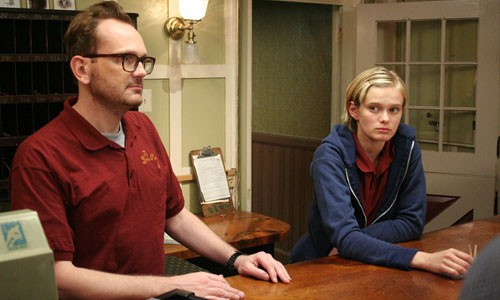 Nothing says creepy like a good old-fashioned ghost story – especially when notable filmmaker Ti "House of the Devil" West is at the helm.  That's right fright fans, the haunting new film "The Innkeepers" is hitting Blu-ray April 24 from Dark Sky Films and we thought we'd revisit the Yankee Peddler Inn based chiller.  So along with our review, we're doing a follow up one-on-one Q&A session with the great Ti West who talks cool home release packaging, commentary tracks and what films freak him out – first up...the review!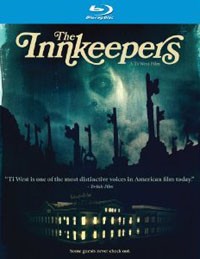 Title: "The Innkeepers"
   Grade: 4
   Cast: Sara Paxton, Pat Healy, Kelly McGillis
   Director: Ti West
   Rating: R
   Runtime: 110 minutes
   Release Company: Dark Sky Films
   Website: http://beta.darkskyfilms.com/     
The Flick: Horror as suspenseful art is definitely becoming a thing of the past, but thankfully "The Innkeepers" and Ti West keep it alive and well.  Not only is the film a fascinating exercise in scares though sound, but also the casting of relatable and quirky counter geeks Sara Paxton and Pat Healy wracks the tension up an extra notch.  Add to that some post-"Stake Land" Kelly McGillis as a old actress turned psychic and you've got a flick that Alfred Hitchcock would have give a thumbs up to.
Best Feature: There's a good Featurette and two commentary tracks, but you can't beat the more technical and detail ridden audio version with West and his production team telling the tale.
Best Hidden Gem: Not available for all, my version came in a continued tradition of unique and just plain cool packaging for Ti West films ("House of the Devil" came in a 80's VHS white clam shell!) –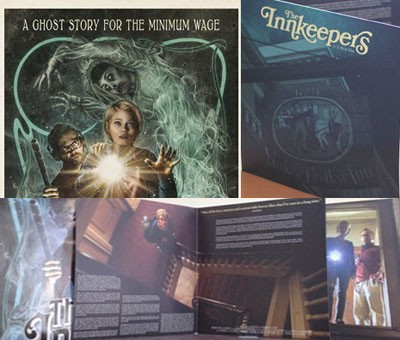 ...a Limited Edition Gatefold LP style cover that opens up and has the artistic one-sheet from the film in one sleeve and the deluxe Blue-ray mounted on a picture in the other.  (Dark Sky and Ti together have class!)
Worth the Moola: For fans of the genre, it doesn't get much better than this.  Stay in and this one is definitely a keeper.
And now for more insight on "The Innkeepers" here's the great...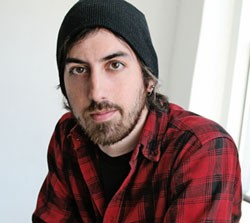 First off the packaging for "The Innkeepers" – Gatefold LP style casing - is super cool and memorable like the great VHS clam shell for "The House of the Devil."  So do you have a hand in that stuff and what are your thoughts on the Limited Edition product packaging?
Ti West: Most of the credit should go to Dark Sky for making them and for spearheading the process.  The VHS I got kind of meticulous on with them because we were putting ourselves in a world of making something that's so specific that we have to do it perfectly and correct and so I was pretty on top of that one.  The Gatefold I think they really took the lead on; they would send me ideas for the cover, but I didn't really have much to say about it.  I think they did a great job and little touches like where the disc sleeve completes the photo and the fact that it's double sided is very classic and very classy and they did a great job.  I've worked hard to some degree to create my own brand as a filmmaker and I really appreciate them doing things to keep it going.   
You recorded two commentary tracks for the release – was it important to get all the info out for the flick and what makes for a good commentary track?
TW: Part of it is laziness to do other features.  We have this one short Behind the Scenes, but when you have so few people making the movie and they're like 'put together a behind the scenes' you're like are you out of your minds?  The thought of putting together an hour-long documentary at that time – I'm spent.  So the easy way to do it is the commentary and I feel like commentaries are the thing people seem to like the most.  So I can be lazy and not deal with intense deleted scenes and documentaries and skip that drama and I can also focus on what they like the most.  To me those commentaries make up eighty-five percent of the people who are a big part of my filmmaking life during the making of these movies.  So you have slightly more technical one that has Graham the Sound Designer and Peter the producer and Larry the producer and myself and you get the idea of what it was like getting the movie made.  And then since it this movie is such a character driven actor movie, there's one with them.  It gives you different perspectives on what it was like making the movie.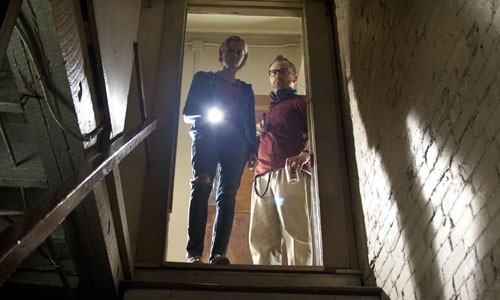 I love that you're one of the few filmmakers left who still utilizes an opening title sequence – what is the inspiration behind the ones in both "The Innkeepers" and "The House of the Devil" and will you continue this tradition no matter what genre you tackle?
TW: Yeah – every movie I've made even before those they've all have title sequences.  I'm a fan of title sequences and I just like them aesthetically.  But I think importantly they give about a minute and a half to two minutes to set the tone and it's a primer for the movie your gonna watch.  So you get an idea of the music, you get some sort of visual identity of the movie and you get time settle into the movie.  It's like the entryway into what you're about to experience and it's a great time to get settled into your seat and start to pay attention to what you're about to watch.  So many movies now are aimed at the lowest common denominator and they don't want you to pay attention.  They want you to be a completely passive movie watcher, which is not where I'm coming from.  It's the time to strap in and get ready for it.   
Since "The Innkeepers" is such an eerie and chilling piece of celluloid, I was curious are there any films past or present that freak Ti West out?
TW: Sure, there's plenty.  I think that certainly "The Shining" comes up a lot because you can't make a haunted hotel movie without invoking it to some degree.  We try not to, we tried to dodge it as much as possible, but I think that may be one of the greatest horror movies ever and certainly the greatest hotel horror movie.  And that traumatized me – the two little girls really were the first thing to really scare me.  
Lionsgate just came out with an unneeded "Kate & Leopold" Director's Cut – any word on when we'll see a much desired "Cabin Fever 2" the Ti West version?
TW: I would still love to do it.  I'd have to budget it out and I think it's somewhere between two hundred and three hundred thousand dollars to get all the footage, to hire my composer to re-score, to hire a sound designer to re-do all the sound, to re-do all the effects, to re-color correct, I gotta re-edit and things like that.  I feel that somewhere around two hundred thousand dollars is enough to produce that – ballpark.  I don't think that's a lot for someone like Lionsgate, it's just is it worth it to them?  Probably not right now, but if it ever becomes worth it to them I would jump on the opportunity to do it – I'd love to do it.
If they did release one what would you like to see as the special packaging?
TW: Umm...I don't know.  I'd have to give it some more thought.  It has to be something gross because that whole movie was meant to be a really just disgusting, gross out tramedy that is a social commentary about awkward teen sex and STD's.  So something probably medical oriented – I'd have to give it a little more thought.    
What's next for you and do you have any interest in exploring other genres?
TW: Yeah, I think I'm getting pretty close to taking a break from horror for a little while.  I have a science fiction horror movie with Liv Tyler that's slowly coming along, I've got a werewolf movie that's a bit of a comedy and one other movie that's a horror movie.  They're all possibly going to get made at any moment.  Plus I'm adapting this novel called "Bedbugs" for this company and that's a horror movie.  But after having all those things done it's time to move on in the sense that I've made six horror movies in six years, and I've got those ones I just mentioned to you sitting around waiting to get made, at what point do you sit there and write 'she slowly walks down the hallway' and go wait a minute – I can't do this again.  I have a few more of my own ideas that are horror oriented, but then I'm gonna take a break.