Blu-ray Review/Interview: Actor Kurtwood Smith Talks Dead Poets Society, Robin Williams And Robocop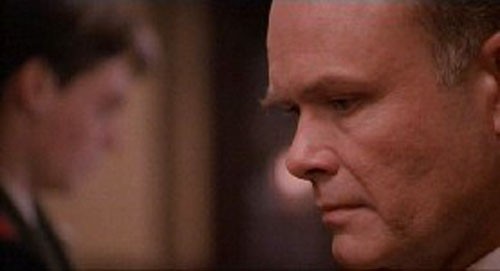 Two films opposite when it comes to story, but still share a connection in the form of a five-star layered and inspired performance by the great Robin Williams.  We're talking "Dead Poets Society" and "Good Morning, Vietnam" (both out now on Blu-ray from Buena Vista/Touchstone Home Entertainment) - two movies with equal parts drama and comedy that leave a lingering impact.  We're celebrating their release on Blu-ray with a review of each, plus we're giving fans a little "Dead Poets Society" insight via a chat with the devoted heavy-handed father of Robert Sean Leonard's character Neil Mr. Perry, played by the well-known actor Kurtwood Smith.  (Clarence Boddicker from "Robocop," y'all!)  In a one-on-one interview with Starpulse, Smith looks back and talks Dead Poets and his character, Robin Williams and even gives us a little "Robocop" love.  So stand up straight and focus – here's Mr. Perry himself...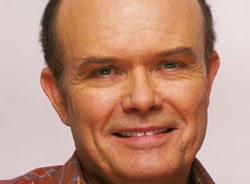 There seemed to very much be a loving father inside the stern Mr. Perry – how important was it to you to not make the character a one-note bad guy?
Kurtwood Smith: It was very important.  Peter Weir and myself were really careful to make sure that happened.  The people at Disney and the producers were very cautious about making sure that the character remained the antagonist and he didn't become some good guy.  We understood that – the film needs that.  But by the same token, Peter and I were determined that he be understandable otherwise the film gets a little too melodramatic.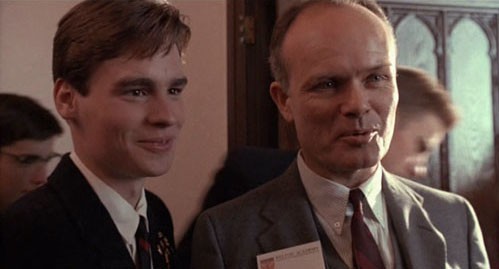 Peter Weir is a master actor's director – can you go into his style and approach as a director from you experience?
KS: Peter is somebody that you have absolute confidence in because you know that he knows what he needs from your character and from scenes in particular.  Beyond that he wants to pull as much from you as possible – he watches you like a hawk in rehearsals to see what you're doing.  The business with adjusting my slippers at the side of the bed came out of rehearsals.  He pays attention to detail and what you're doing.  So when you work with somebody like you work even harder because you know it's going to be appreciated.
Did you ever expect "Dead Poets Society" would have such a long legacy?
KS: No, no you never know that.  I had a really good feeling that it would be a good film, a well-done movie and that I would quite likely be happy I was in it.  But nobody can tell you whether it's going to be successful, much less become a classic until the people decide that's what it's going to be.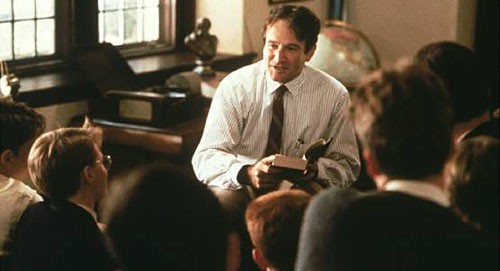 Robin Williams gives a wonderfully understated performance in Dead Poets – what was his demeanor like on-set?
KS: Most of the time he was Robin – it depended on the scene he was doing.  On some of the crowd scenes in the theater he was very entertaining and he entertained all those hundreds of extras we had sitting there in the seats.  He would get up and do some of his routines and he'd be clowning around on the set a lot.  Other times...I had a scene with him that was cut from the movie but Peter decided to shoot it anyway after the funeral and it was a serious scene and there was no goofing around then.  But I've known Robin since the early 70's – we'd done theater together.       
What has been some of the more interesting reactions to your memorable character in the film by audiences?
KS: (Laughs) One time I was in New York a few years after that and ended up getting into a cab.  I was with a playwright and we were on our way to a rehearsal getting into this cab and these girls behind us out in the street were yelling, 'Hey!  Hey you!  Hey, you killed you're son!  Hey you there!'  It was the funniest thing in the world!  For the most part I got a lot of 'Oh, I hated you so much in that movie!'  But here's what happened to me a few times and it meant so much to me.  I've had people come up to me and say, 'You know, because of that movie, because of the relationship between you and your son in that movie, I got my father, whom I always had a hard time with, to go to the movie with me and it really helped.'  Another time it was 'A friend of mine's father treated my friend just like that and I got them to go to the movie and it really changed them.'  When you can have that kind of effect on people – not me, but the movie – and when something you're a part of has that kind of effect on people, you just can't help but feel you're doing something worthwhile.   
I have to mention - I love your unforgettable work as Clarence Boddicker in "Robocop!"
KS: (Laughs) Thanks!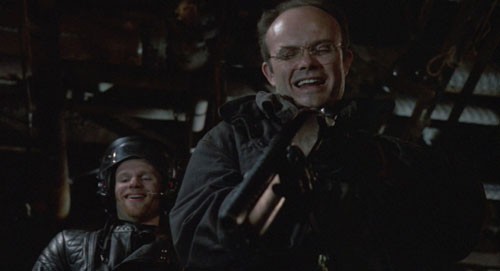 How fun was that movie to shoot and what was it like working with an early in his career Paul Verhoeven?
KS: It was a ball!  I mean at times it was physically uncomfortable because we shot all these warehouse scenes where all these guys got killed and it was a hundred and ten degrees outside.  We were in Dallas, Texas and we really didn't have much air conditioning inside, but it was still total fun the whole time!  That was a movie that I was there the whole run of the film – I was getting married during "Dead Poets Society" so I was in and out a lot – but on that film I was there the whole time.  The gang, we all kind of hung out together and had dinner and we had fun.  Paul was again a great director for me.  Sometimes people who were the head of crews and stuff like that had a hard time, but Paul was always only concerned about the movie.  As far as my work with him, I loved working with him.
*Quick note before the reviews – the Blu-ray's of "Dead Poets Society" and "Good Morning, Vietnam" are both sadly sans any insight or interviews with driving force Robin Williams.  We did request some interview look back time to help the omission and boost the Blu-ray marks, but Mr. Williams declined.*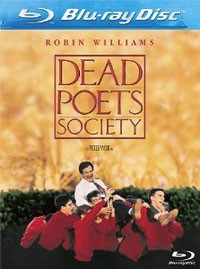 Title: "Dead Poets Society"
   Grade: 4 1/2
   Cast: Robin Williams, Ethan Hawke, Robert Sean Leonard
   Director: Peter Weir
   Rating: PG
   Runtime: 129 minutes
   Release Company: Touchstone/Buena Vista Home Entertainment
   Website: www.BVHEBluray.com
The Flick: A fantastic mix of life, love and inspiration, "Dead Poets Society" has earned its rightful place amongst the films that are beloved.  It's also a fine example of what superb writing, directing and acting can do to create something special.  The script by Tom Schulman ended up winning the Oscar, Director Peter Weir became the epitome of the actor's director (he gets the best out of anyone – see Jim Carrey in "The Truman Show!") and the young cast including Ethan Hawke, Robert Sean Leonard and Josh Charles all went on to have big careers.  But it's the understated work by the magnificent Robin Williams that is the heart of "Dead Poets Society" and it undeniable magnificence – Oh captain, my captain.
Best Feature: 'Dead Poets: A Look Back' is a fabulous doc with tons of cool stories via Ethan Hawke and others, but with a single glaring omission – no Robin Williams to be found.  (Thus the ½ star off!)
Best Hidden Gem: Kurtwood Smith (and I put him into this category BEFORE the interview!) as the seriously confused father – heartbreaking stuff.
Worth the Moola: If you don't mind that Robin is MIA on the extras, this one is a collection addition classic.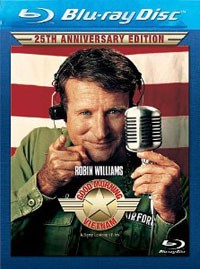 Title: "Good Morning, Vietnam"
   Grade: 4 1/2
   Cast: Robin Williams, Forest Whitaker, Bruno Kirby
   Director: Barry Levinson
   Rating: R
   Runtime: 121 minutes
   Release Company: Touchstone/Buena Vista Home Entertainment
   Website: www.BVHEBluray.com
The Flick: Only Barry Levinson and Robin Williams could pull off a comedy based in Vietnam.  Though not without some decent dramatic moments, the comedy via Williams as 'rock the boat' army DJ Adrian Cronauer is fast, furious and sidesplitting.  And while there is a fantastic supporting cast – a young Forest Whitaker, Bruno 'and if you do' Kirby, Robert Wuhl and the late great J. T. Walsh – the vast amount of solo monologues make this one Robin's show all the way.
Best Feature: Again, no word from Robin, but for fans there's a special 'Raw Monologue' section that features more hilarious riffing from Robin via longer takes of his rants – he's the man!
Best Hidden Gem: Love Richard Portnow as Dan 'The Man' Levitan who would eventually go on to play Ben 'you're a moron, shut up and sit still' Stern, father of Howard in "Private Parts."
Worth the Moola: Again, no Robin seriously hurts the showing of this 25th Anniversary Edition, but doesn't eliminate the funny.