Blu-ray Review: 'You're Next'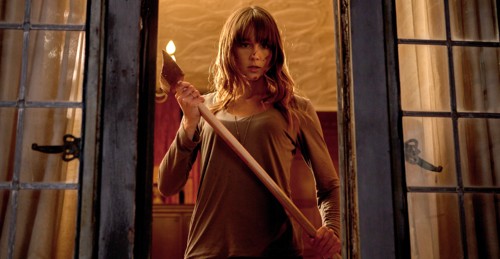 Home invasion – gone wrong.  We're checking out the new to Blu-ray horror outing "You're Next" out Jan. 14 from Lionsgate Home Entertainment.  We remove the masks and review what's behind below!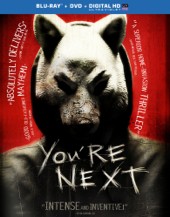 Title: "You're Next"
   Grade: 2
   Cast: Sharni Vinson, AJ Bowen, Barbara Crampton
   Director: Adam Wingard
   Rating: R
   Runtime: 94 minutes
   Release Company: Lionsgate Home Entertainment
   Website: www.lionsgateshop.com
The Flick: After being disappointed with this one at the LA Film Fest this year, I decided to give it another shot via home viewing.  I was a tad more impressed by the work of kick-ass gal secret weapon Sharni Vinson, but overall I had the same ho-hum reaction.  "You're Next" is way too busy and unfocused to be able to get into fully.  By the time it gets passed facades of being a home invasion and slasher flick to then eventually become a half decent woman empowerment flick, the audience has already tuned out.  (Again, was done with much more gusto and faster via the flick "The Aggression Scale!") Plus any film with great performers like Barbara Crampton and AJ Bowen in small underwhelming roles unbefitting of their acting prowess is a flick that needs work.
Best Feature: The 'Commentary' with Director Adam Wingard, Writer Simon Barrett and Actors Sharni Vinson and Barbara Crampton is mildly endearing for the tough woman tales (Vinson) and nostalgia factor (Crampton).  (The other with solo Wingard/Barrett tag team is a tad self-serving!)
Best Hidden Gem: Love the use of the song Looking for the Magic by Dwight Twilley Band here.
Worth the Moola: Unfocused + Talent Underused = Unfun.