Blu-ray Review: 'Wreck-It Ralph: Ultimate Collector's Edition'
Ready to add a little video game into your animated flick?  Then insert a quarter as we review the new to Blu-ray flick "Wreck-It Ralph: Ultimate Collector's Edition" out now from Walt Disney Home Entertainment.  The game-hopping adventure gets reviewed below!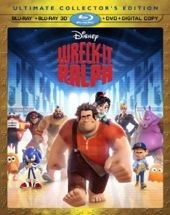 Title: "Wreck-It Ralph: Ultimate Collector's Edition"
   Grade: 4
   Cast: Voices of John C. Reilly, Sarah Silverman, Jane Lynch
   Director: Rich Moore
   Rating: PG
   Runtime: 108 minutes
   Release Company: Walt Disney Home Entertainment
   Website: www.DisneyBluray3D.com
The Flick: For those who grew up with the old school video arcade games, "Wreck-It Ralph" is truly a wondrous animated throwback.  Taking a page from the classic arcade games of old, Director Rich Moore not only makes this one a mecca for those who remember the days of the arcade, but also successfully brings all newbies into the fold with a universal story of overcoming adversity.  (Much cooler then it sounds!)  The writing is wonderfully witty, the story engaging and the voice cast does the rest.  From the wry delivery of John C. Reilly as the sullen big guy, wisecracking Sarah Silverman as his admiring tiny tot and especially the sassy Jane Lynch as a kick ass military gal all the characters that inhabit "Wreck-It Ralph" are completely memorable.  Will those who don't know these old games still enjoy the show?  For sure.  But will those who remember the magical 80's game time like it more.  Most definitely.  (And yes, in a glorious 3D for those with capability it's a truly interactive vid game experience!)
Best Feature: Still adore the Academy Award short 'Paperman' – finally animation and adult drama working hand in hand.
Best Hidden Gem: The Blu-ray exclusive 'Disney Intermission: The Gamer's Guide to Wreck-It Ralph' gives solace to those waiting with the pause button on for spouses and kids who create unneeded commercials with a little Chris Harwicke hosted fun.
Worth the Moola: This is one of those animated flicks that could be watched over and over – and the kids will probably dig it too!