Blu-ray Review: 'West Side Story: 50th Anniversary Edition'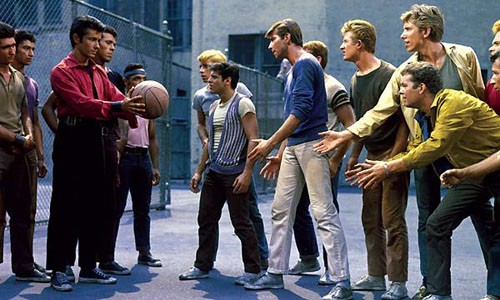 Ready to rumble once again with the Sharks and Jets?  Then join us in checking out this weeks lush and luminous new Blu-ray release of the classic Oscar winning film "West Side Story," a 50th Anniversary Edition via MGM Home Entertainment.  Something's coming...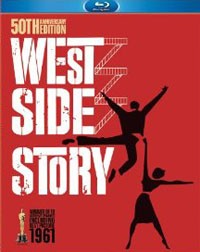 Title: "West Side Story" (50th Anniversary Edition)
   Grade: 5
   Cast: Natalie Wood, Russ Tamblyn, Richard Beymer
   Director: Robert Wise and Jerome Robbins
   Rating: Not Rated
   Runtime: 153 minutes
   Release Company: MGM Home Entertainment
   Website: www.mgm.com
The Flick: Can anyone really deny the awesome dramatic power and dance and song spectacle of "West Side Story?"  Even having been made fifty years ago, the film with its topical tackling of taboo subjects of attempted rape, racism and gang warfare remains as potent as ever.  But for me the capper is most definitely the chemistry between romantic Romeo and Juliet-esk leads Natalie Wood and Richard Beymer, a match made in musical heaven. (Plus Oscar winners Rita Moreno and George Chakiris are good too!)  And this new restored Hi-Def version is a fitting tribute to the song and visual prowess of co-directors Robert Wise and Jerome Robbins – 1961 has never looked better. 
Best Feature: Amidst cool stuff like an 'In-Movie Viewing Mode,' 'Song Specific Commentary' and even a cool long 'Legacy Doc,' the best of the bunch is 'West Side Memories' which goes right to the horses – or cast and crew – mouth.  Notable tidbits include the fact that of the two directors Robert was more laid back, while Jerry was much more emotional (he eventually got sacked!), that there was no chemistry besides what was on-screen between leads Wood and Beymer (he describes the relationship between he and Wood as "cold"!) and some interesting comparisons between original song recordings by the actors and their eventual replacement vocal doubles – fascinating!
Best Hidden Gem: Sill think it's uber-cool that both Beymer and Russ Tamblyn both went on to skewer their American apple pie persona with David Lynch via "Twin Peaks!"
Worth the Moola: For fans – and the uninitiated – this is the best looking and best sounding version of the Oscar winner yet.  Buy a copy and you're a fan all the way!