Blu-ray Review: 'Warrior'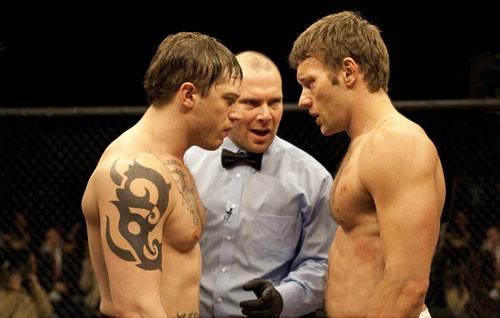 You're fighting the baddest boys that mixed martial arts has to offer and in the end you then come face to face with...your own brother?  Such is the dilemma of the two tough guys of the new film "Warrior," out Dec. 20 on Blu-ray/DVD, Video On-Demand and Digital Download from Lionsgate.  Heroes, heart and head injuries – the bell rings below!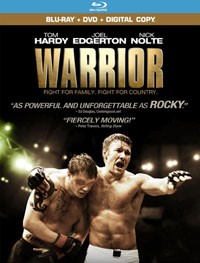 Title: "Warrior"
   Grade: 4
   Cast: Tom Hardy, Joel Edgerton, Nick Nolte
   Director: Gavin O'Conner
   Rating: PG-13
   Runtime: 140 minutes
   Release Company: Lionsgate
   Website: www.lionsgatebluray.com
The Flick: A fantastic mix of action and acting, "Warrior" simply got kneecapped by bad advertising.  The film was presented as a typical fight flick worthy of Jean-Claude Van Damme with an inane title to match, but the fact is that the fights themselves serve as a powerful metaphor for what is going on emotionally in the story.  Meaning for all the very cool MMA action (and it's ass-kicking stuff!) there's a ton of original performances (brothers Tom "Bronson" Hardy and Joel Edgerton are fantastically different!), layered back story (weary father Nick Nolte deserves an Oscar!) and sweet relationships (Jennifer Morrison is the perfect wife – sassy and sexy!) that make "Warrior" a truly notable film of 2011.  Director Gavin O'Conner walks the tightrope of drama and sports action like a pro and wisely doesn't get bogged down in either world for long.  Much like "Rocky" and "Raging Bull" before it, the real sport is the stuff that happens outside the ring. 
Best Feature: 'Redemption: Bringing Warrior to Life' is one phenomenal doc that goes through the trials and tribulations of making the film.  Any doc that can give you more respect for the film and its players (Hardy and Edgerton really worked their asses off!) is worth checking out.
Best Hidden Gem: As Edgerton's pal and trainer, Frank Grillo gives the best wise man in the corner performance since Burgess Meredith's Mickey Goldmill in "Rocky."  
Worth the Moola: Much more then the ads and video snippets give it credit for, "Warrior" is a deep and moving drama masquerading as a fight flick.  (Plus see Nolte's Oscar winning work before he wins!)