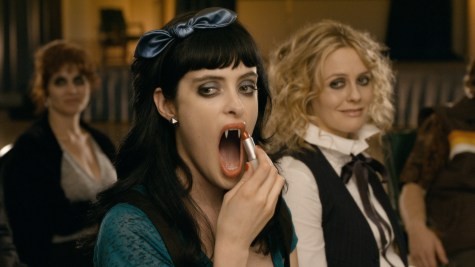 Revived from the sleep of the undead, drank a glass of rodent blood and ready to hit the night – but with nothing to wear?  Such is the dilemma of fashion conscience bloodsuckers Alicia Silverstone and Krysten Ritter in Amy Heckerling's new to Blu-ray flick "Vamps," out Nov. 13 from Anchor Bay Home Entertainment.  Dress for bloodlust success below.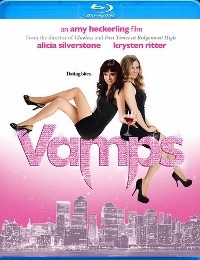 Title: "Vamps"
   Grade: 3 1/2
   Cast: Alicia Silverstone, Krysten Ritter, Sigourney Weaver
   Director: Amy Heckerling
   Rating: PG-13
   Runtime: 93 minutes
   Release Company: Anchor Bay Home Entertainment
   Website: www.anchorbayent.com
The Flick: In what I can only describe as Clueless meets the undead crowd, Vamps should be a flick to forget.  Fortunately the writing of helmer Amy Heckerling has never been more biting (pun!) and poignant and helps Vamps rise above B-fare.  It's also fitting that her Clueless muse Silverstone is the lead here, who plays a nostalgic campy version her former famed character with Krysten Ritter then adding a bit of sass to the sweet.  Heckerling doesn't go light on the supporting players either with Sigourney Weaver playing a wonderfully heartless vamp bitch, Wallace Shawn as a pint sized Van Helsing and even a little Richard Lewis not just playing it for laughs.  (Meaning there's even some sentimentality in this one!)  Color me script surprised – Heckerling still has the goods.
Best Feature: Not a thing – no featurettes, no set tour with Wallace Shawn and most importantly no much wanted audio commentary by writer/director Heckerling.  This can't really be an Anchor Bay title – it's a sign of the coming of the no extras apocalypse.
Best Hidden Gem: Between a frazzled Richard Lewis (aka ever the same but older!) and a quick quipped Wallace Shawn there's enough gems in this Easter basket to cause cavities.
Worth the Moola: "Vamps" is delightful and fun without being pretentious, but the lack of a single extra strictly warrants rental status.