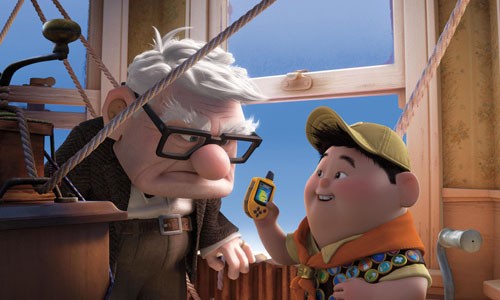 Flying high...in 3D?  We're hitching a ride on the balloon house express and checking out the new to Blu-ray "Up 3D" out Dec. 4 from Pixar/Walt Disney Home Entertainment.  The house and review land below!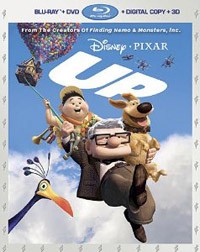 Title: "Up 3D"
   Grade: 1
   Cast: Voices of Ed Asner, Christopher Plummer, Jordan Nagai
   Director: Pete Docter
   Rating: PG
   Runtime: 96 minutes
   Release Company: Pixar/Walt Disney Home Entertainment
   Website: www.DisneyBluray3D.com
The Flick: "Up" is a film that starts off very different and unique from the other Pixar films before it.  It dares to get a little deep, sad and even sentimental...and then sadly turns right back into a goofball cartoon.  There was much praise for this dim Pixar outing and it's a shame because it's the most inane of the prestigious catalog.  It starts off with thought and rich character captivation and then goes into "Monsters Inc." like territory with annoying kids, gimmick ridden animals and an overall story that lacks the luster of the films' initial sweet promise.  I had exactly the same opinion watching this sucker in 3D as I did in 2D – watch the opening story then turn it off.
Best Feature: Thank goodness the clever short 'Partially Cloudy' is present, but I did get a kick out of the doc on that opening sequence titled 'Married Life' that also contains missing ideas via storyboards.  (Should have made the whole movie about this – lose the dog!)
Best Hidden Gem: Christopher Plummer does chew the voice scenery nicely as the bad guy – he just needed a better movie!
Worth the Moola: I've made my opinion known – now make up your own.