Blu-ray Review: 'Twilight Forever - The Complete Saga'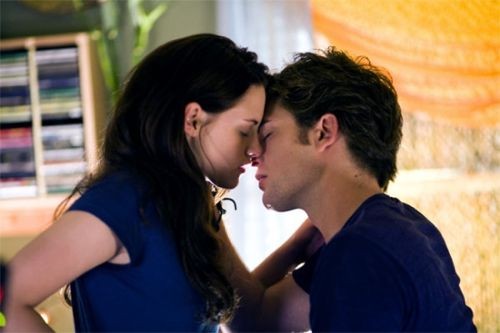 Team Edward.  Team Jacob.  In one comprehensive and collectable set?  We're checking out the new to Blu-ray 10-disc set "Twilight Forever – The Complete Saga" out now from Lionsgate and Summit Home Entertainment.  We see if fans have enough to sink their teeth or claws into below.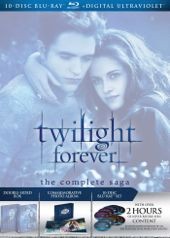 Title: "Twilight Forever – The Complete Saga"
   Grade: 3 1/2
   Cast: Kristen Stewart, Robert Pattinson, Taylor Lautner
   Director: Various
   Rating: PG-13
   Runtime: 732 minutes
   Release Company: Lionsgate / Summit Home Entertainment
   Website: www.lionsgatebluray.com
The Flicks: Watching these all Twlight films again what struck me most were two things – the layer of soap opera schmaltz continual throughout every outing (fits the audience of these flicks for sure!), but also the difference a really good director makes.  In the first "Twilight," "Thirteen" helmer Catherine Hardwicke does lay on the love, but her signature bits of school haze and style craze are clearly evident.  The second film New Moon is horribly staged by Director Chris Weitz in a very uninspired and even bland tone.  (Though a sullen Kristen Stewart does save this flick from total destruction!)  By stark contrast the use of "Hard Candy" Director David Slade for Eclipse is by far the best of the bunch.  Utilizing the dark gifts so amply shown in both Candy and "30 Days of Night," Slade brings not only a more somber tone to the flick, but never looses his own stylistic identity.  The final two films Breaking Dawn 1 & 2 go back to soap opera land courtesy of Director Bill Condon and only come alive during the Jeff Imada choreographed fight scene in Part 2.  (And then Condon pulls a rug out with all a dream stuff – yeah.)  Overall some good (father Billy Burke is consistently terrific!), some bad (Taylor Lautner has about as much acting range as a rock!), but for fans it will not matter.
Best Feature: There are disc with individual features for some of the films, as well as extras on the film discs themselves.  What is extra here is a single disc titled 'Twilight Forever' which is chocked with everything from a Edward and Jacob Saga dissection to a Breaking Character gag reel.  The one I found most interesting was the 'Twilight FANomenon' where we get to see and hear from the die-hard "Twilight" fans – very scary!
Best Hidden Gem: Martin Sheen, who doesn't have nearly enough screen time, relishes and enjoys playing resident vamp freak Aro – and we do to!
Worth the Moola: Fans will get this set regardless of the review, but with the cool scrapbook like packaging and extras it is worth trading in the individual disc you already purchased.