Blu-ray Review: 'True Detective'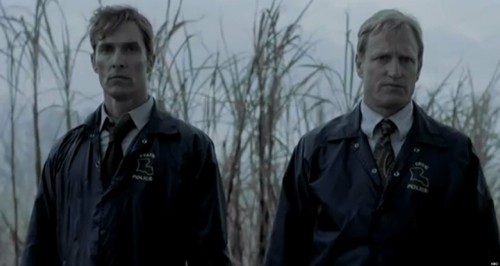 Ready to go on a 17-year hunt for a killer?  The follow us as we check out the new to Blu-ray 8-episode series "True Detective" out June 10th from HBO Home Entertainment.  We review the case and its results below!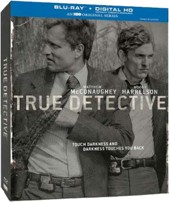 Title: "True Detective"
   Grade: 4 1/2
   Cast: Woody Harrelson, Matthew McConaughey, Michelle Monaghan
   Director: Cary Joji Fukunaga
   Rating: Not Rated
   Runtime: 458 minutes
   Release Company: HBO Home Entertainment
   Website: www.hbo.com
The Show: HBO and the creators of "True Detective" are a clever bunch.  The idea of creating a rich complex story, weaving it over only a mere eight episodes and having a traditional beginning, middle and end may seem simple, but it's damn effective.  In going with this formula they not only guaranteed the audience a thrill ride with a conclusion, but they landed some top movie talent that could endure the short production time and make the audience squeal with delight.  So the two leads of this case are Woody Harrelson and Matthew McConaughey and not only are the two riveting, but they're both bringing their A-game.  Harrelson plays an askew family man who appears to be stable on the outside, but has many secrets within.  McConaughey's character by contrast is a broken and frail man who is caustically frank about himself, his partner and the world in general and it provides much dark humor. (Not to mention the sexy and sassy Michelle Monaghan as Harrelson's better half!)  Together they make quite a pair as they investigate a strange case involving religion and mass murder.  From crooked ways of extracting info ("To Live and Die In L.A." style!) to McConaughey taking the case to unhealthy obsession territory (a little "Manhunter" in here!) there is much fun to be had.  (My only reservation and hence half a star from perfect has to do with things left undone like the unneeded 'here now, gone tomorrow' girlfriend of McConaughey played by Elizabeth Reaser and other unneeded characters – minor flaw.)
Best Episode: Episode 8 titled 'Haunted Houses' is all McConaughey's Cohle face-to-face with conmen, religious zealots, the killer's victims and even the agenda ridden sexual advances of his partner's wife – this one belongs to him.
Coolest Moment: Watching the amazingly choreographed single-shot, intense following sequence in episode four titled 'Who Goes There.'  It's like the beginning of Brian De Palma's "Snake Eyes" – only cooler and darker!
Most Underrated Character: The amazing Ann Dowd shows up in the final episode – man is that woman versatile or what?!
Best Feature: The featurette 'Making True Detective' covers everything (creation to inspirations!), interviews everyone (love hearing from best buds Harrelson and McConaughey!) and gives great info (this one was shot on 35mm – and it shows!) – all in one!
Best Hidden Gem: The small featurettes 'Up Close with Woody and Matthew' provide nice insight not only into their characters but into their personal relationship too – nice!
Worth the Moola: So worth it – watch it again after you know the answers just for the nuances in the performances.