Blu-ray Review: 'Transformers Prime' (Season One)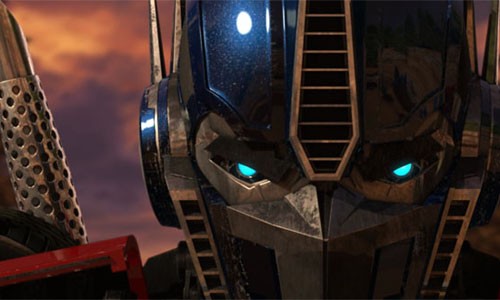 Ready for a little new animated Optimus?  Then transform and roll out cause we're checking out the new "Transformers Prime" - Season One Blu-ray Limited Edition from Shout! Factory out this week.  Follow Bumble Bee below!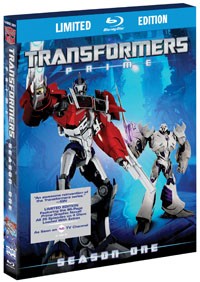 Title: "Transformers Prime" (Season One)
   Grade: 4
   Cast: Peter Cullen, Frank Welker, Jeffrey Combs
   Director: Various
   Rating: Not Rated
   Runtime: 10 Hours
   Release Company: Shout Factory
   Website: www.shoutfactory.com
The Flick: Some things change, some stay the same.  In the new "Transformers Prime" animated TV series not only do the robots get a bit of a flash and dash upgrade (Optimus is looking rather svelte!), but there are plenty of new robots to keep things interesting.  (The Rock is the perfect voice for the cocky Cliffjumper!)  Not to mention that the voice talents include both original good/bad guys (Peter Cullen and Frank Welker – together again as it should be!), a grumpy Herbert West (viva la Jeffrey Combs!) and even some Clancy 'Kurgan' Brown action.  So with all this greatness (plus cool new stories by movie writing team Roberto Orci and Alex Kurtzman!) what is the same – the mundane and lame unmemorable human characters.  Much like the old Saturday toon show did, the humans get the shaft in terms of cool, being memorable and just outright sucking.  Review stars seem to align for the wheel inclined – bots 4, humans 0. 
Best Feature: The 'Making of Special,' especially when you get to see Cullen, Combs and Welker doing their thing – a geeks dream.
Best Hidden Gem: The tasty included 'Transformers Prime Graphic Novel' from IDW publishing that's 96 pages of prequel prowess.
Worth the Moola: For fans of both the old and new, the bots make it all worthwhile as always.