Blu-ray Review: 'Toy Story Of Terror'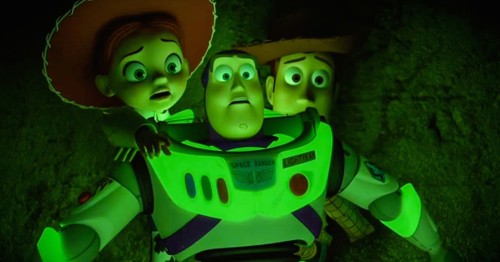 Ready to see your favorite Toy Story characters scare style?  Then follow us as we check out the new to Blu-ray toon flick "Toy Story of Terror" out now from Disney Home Entertainment.  We review Woody, Buzz and the gang and their fright factor below!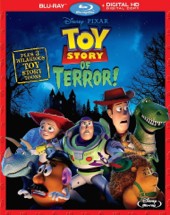 Title: "Toy Story of Terror"
   Grade: 4
   Cast: Voices of Tom Hanks, Tim Allen, Carl Weathers
   Director: Angus MacLane
   Rating: G
   Runtime: 22 minutes
   Release Company: Disney Home Entertainment
   Website: www.DisneyBluray.com
The Flick: All together too short but just as fun filled as the films, "Toy Story of Terror" again walks the fine line that makes it good for both adults and kids.  For the tots the scares are only mild and things do turn out okay (this is a toon after all folks!), while the adults get more character sass, especially in the form of new cool addition Combat Carl voiced by Apollo Creed himself Carl "Predator" Weathers.  Kind of like an old Scooby Doo mystery with Mr. Potato Head leading the charge - a nice Halloween edition for the youngsters. (Plus there are shorts to make things go a tad longer!)  
Best Feature: The Blu-ray has the option of inserting into the program (or on its own too!) some very savory "Vintage Toy Commercials" involving the likes of toys like Combat Carl – classic!  (And makes things longer too!)
Best Hidden Gem: "Team of Specialists" is an adult endeavor featurette featuring the director taking the viewer through Pixar and the process.  (Just wish they had more on the voice talents!)
Worth the Moola: Short but sweet, this is a nice addition to the collection.