Blu-ray Review: 'Tower Heist'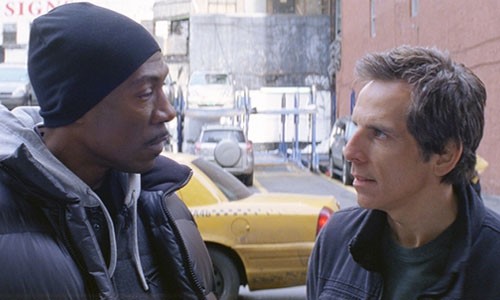 Is legendary funnyman Eddie Murphy still, well, funny?  We're gonna answer that one with a review of his latest outing that teams the comedian with a wry Ben Stiller in "Tower Heist," out Feb. 21 from Universal Home Video.  Check out the stolen goods below!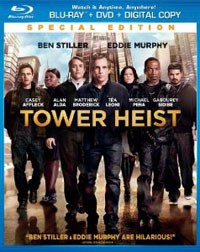 Title: "Tower Heist"
   Grade: 3 1/2
   Cast: Ben Stiller, Eddie Murphy, Matthew Broderick
   Director: Brett Ratner
   Rating: PG-13
   Runtime: 105 minutes
   Release Company: Universal Home Entertainment
   Website: www.UniversalHiDef.com
The Flick: While not one of Eddie Murphy's most amazing outings, "Tower Heist" is by far his best and funniest work in years.  As a sassy ex-con, Murphy goes back to his old school comedic roots and provides some of the funniest moments in the film.  (Think a more grown up Billy Ray Valentine!)  Problem is there's just not enough of him, so the rest of the film is a fairly straightforward tale of working stiff David (straight man Ben Stiller) vs. slick millionaire Goliath (a slimy Alan Alda) and the characters in between designed to add more emotional weight.  Director Brett Ratner doesn't show the action/comedy prowess he almost perfected with the Rush Hour films and it leaves Heist a tad tiresome – but thankfully a little Murphy goes a long way.  
Best Feature: By far the 'Gag Reel,' which has even more tasty Eddie Murphy riffing bits that make it all worthwhile!
Best Hidden Gem: Loved seeing the now way underused Judd 'Dear John' Hirsch in anything – viva la 'Taxi!'
Worth the Moola: A standard flick that's elevated by a funnyman who everyone has been waiting to bring back the laughs he's famous for – he does.