Blu-ray Review: 'Three Amigos!: 25th Anniversary Edition'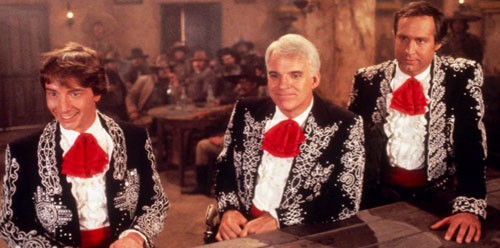 Wherever there is injustice, you will find us.  Wherever there is suffering, we'll be there.  Wherever liberty is threatened, you will find..."The Three Amigos!" – out in a 25th Anniversary Edition hitting Blu-ray on Nov. 22 from HBO Home Entertainment.  So cross your arms, hug your hips and thrust that pelvis forward because we're going for a review ride!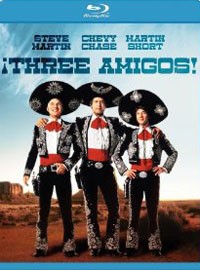 Title: "Three Amigos!: 25th Anniversary Edition"
   Grade: 4
   Cast: Steve Martin, Chevy Chase, Martin Short
   Director: John Landis
   Rating: PG
   Runtime: 105 minutes
   Release Company: HBO Home Entertainment
   Website: www.hbo.com
The Flick: Yes, "Three Amigos!" is basically a fish out of water story mixed with a mistaken identity plot, but with young Steve 'Lucky Day' Martin, Chevy 'Dusty Bottoms' Chase and Martin 'Ned Nederlander' Short all at their comedic peak being directed by "Blues Brothers" helmer John Landis the simple material gets much more then it deserves.  The guys play silent movie stars with money and egos to match who find themselves out of a job and head on down to Mexico to replay their hooligans fighting roles – problem is it turns out to be the real thing.  Sounds corny and at times it is, but comedic genius runs rampant through the colorful Amigos! – from the hip thrusting Amigos! salute to the delightfully annoying singing bush – and makes for a comedy classic.  (Chevy makes eating bat wings funny – come on!)     
Best Feature: It's kind of a three-way tie – the 'Deleted Scenes' provide a bunch of cool extra stuff (though all film foe Fran Drescher and famed Sam Kinison as a mountain man footage has been lost according to Landis!), the 'Cast Interview' is a gem that was done at the time of the release with the three leads (they look so young!), and the 'Cast Reunion Commemorative Booklet' is a look back at the flick via roundtable interview with everyone that does give some humorous new insight.  It's a good buy all around!
Best Hidden Gem: Singing bush aside, there's also early Phil Hartman and Jon Lovitz as studio head Joe Mantegna's Hollywood butt boys – love 'em!
Worth the Moola: Three reasons to saddle up with the Amigos! on Blu-ray – Martin, Chase and Short.  Anything else is simply added icing on the injustice cake!