Blu-ray Review: 'They Live - Collector's Edition'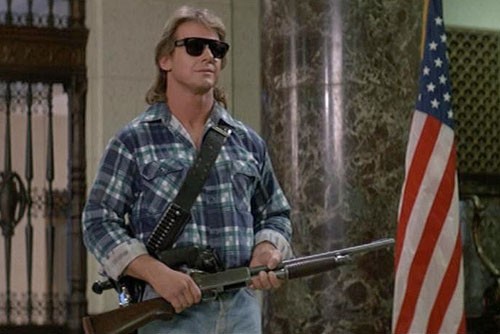 Ready to chew a little bubble gum and kick ass again?  Then check out our review of the new to Blu-ray classic "They Live - Collector's Edition," out Nov. 6 from Shout! Factory's genre division Scream Factory.  Put on the damn glasses and check out the revealing review below!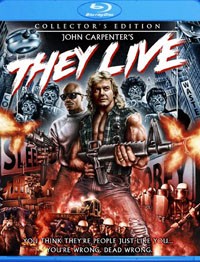 Title: "They Live - Collector's Edition"
   Grade: 5
   Cast: Roddy Piper, Keith David, Meg Foster
   Director: John Carpenter
   Rating: R
   Runtime: 93 minutes
   Release Company: Shout! Factory Home Entertainment
   Website: www.shoutfactory.com
The Flick: Never has John Carpenter's flick "They Live" been timelier then now.  With a shrinking middle class and the rich becoming even more powerful, it's as if back in 1988 Carpenter had a beat on the pulse of things to come.  As a movie, "They Live" is a fun, ruckus, nuanced and downright clever movie that's filled with Carpenter at his best.  Great acting (love the everyman work by wrestler Roddy Piper!), great stunts (the five minute fight in the alley between Piper and Keith David is iconic!), great music and just great ideas make the quality of this one timeless.  (Plus the quotes are priceless!)  Aliens as the elite taking over the planet from the working man – sounds familiar!
Best Feature: Not only is the flick five star, but Shout! Factory has made sure that the extras on this set are as well.  And they deliver handsomely with ALL extras including candid 'Interviews' with Carpenter (answer to whether or not he was asked to trim the alley fight – "f#ck no!"), David and actress Meg Foster (she still has mesmerizing eyes!), plus 'Commentary' with Carpenter and Piper, those 'Commercials' created for the film in their entirety and even an old original featurette top notch – finally a Collector's Edition that earns the name!
Best Hidden Gem: Not only does the packaging with The Dude Designs art cover kick ass, but the featurettes that use pieces of the actual film to reveal DVD credits and titles is a clever and creative cool that fans of "They Live" will go gaga over! (I did!)
Worth the Moola: This puppy is certainly going on my Top Ten list of DVD/Blu-ray for 2012 (most likely #1!), so if you don't have it in your collection maybe your special glasses have fogged up – even if you're out of Hubba Bubba, get this one ASAP!