Blu-ray review: 'The World's End'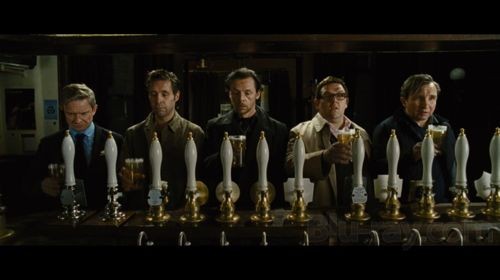 Ready to hit twelve pubs for twelve pints – and fight robots as well?  The follow us as we review the new to Blu-ray flick "The World's End" out now from Universal Home Entertainment.  Don't be daft and read the skinny below!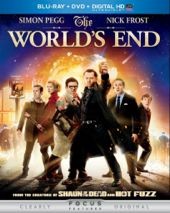 Title: "The World's End"
   Grade: 4
   Cast: Simon Pegg, Nick Frost, Martin Freeman
   Director: Edgar Wright
   Rating: R
   Runtime: 109 minutes
   Release Company: Universal Home Entertainment
   Website: www.UniversalHiDef.com
The Flick: When Edgar Wright, Simon Pegg and Nick Frost team up it's frankly always gold and "The World's End" is no exception.  Upping the ante in the third of their Cornetto Trilogy, that includes the horror inspired "Shaun of the Dead" and gun-toting "Hot Fuzz," in both action (robots vs. humans anyone?!) and comedy (the bar fight scene where Pegg is determined to finish his pint is classic!), The World's End is a fitting finale.  This time it's a blend of middle-age drama and Body Snatchers-esk sci-fi that sets the stage for the comedy and Wright at his best weaves the flick like a skilled puppet master.  Plus along with the hilarity of playing a sad sack alcoholic determined to conquer the twelve pubs, twelve pints Golden Mile, Pegg brings a certain surprising amount of dramatic pathos to his ailing Gray King, making it his most impressive work of the three films.  Of course all his partners in crime – the quiet then crazy Frost, the timid Eddie Marsan, the stuffy Martin Freeman and the hapless Paddy Considine – are perfectly cast as well.  (And fans of the trilogy will see a plethora of cool cameos!)  Fun, feisty and full of everything you expect from the guys, this final flavor is a tasty treat.      
Best Feature: Tons of great features on this bad boy, but it doesn't get better than the whopping three 'Commentary Tracks' featuring Pegg and Wright talking writing, Wright and crew chatting technical and Pegg, Frost and Considine waxing nostalgic – thanks for the memories.
Best Hidden Gem: Love the calm Zen teacher of the boys played by the very slick Pierce Brosnan.
Worth the Moola: Need to get your Pegg/Frost/Wright fix on – "The World's End" saves the day.