Blu-ray Review: 'The Walking Dead - The Complete Season Four'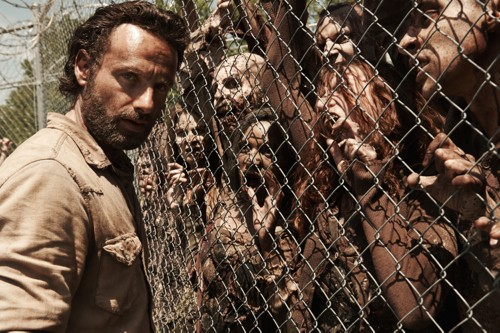 Walkers here, there and everywhere – must be dead time!  We're checking out the new Blu-ray edition of "The Walking Dead – The Complete Season Four" out now from Anchor Bay Home Entertainment.  Is four times a charm?  We review it below!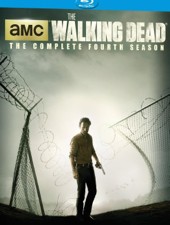 Title: "The Walking Dead - The Complete Season Four"
   Grade: 3 1/2
   Cast: Andrew Lincoln, Norman Reedus, Danai Gurira
   Director: Various
   Rating: Not Rated
   Runtime: 696 minutes
   Release Company: Anchor Bay Home Entertainment
   Website: www.anchorbayent.com
Show Overview: This season feels more like two different stories – one still dealing with The Governor and the prison and the other without.  The former is a fascinating piece of character work via David Morrissey as he goes from a shell of a man back to his former brutal self in some of the best acting the series has had to date.  The later, while out in the elements unguarded, gets fully bogged down by so much drama and exposition counterproductive to the story that the arrival of the destination Terminus can't come too soon.  Some folks die along the way and some interesting characters pop up, so overall this season manages to hold its own.
Favorite Episode: 'A,' the final episode of the season, and not just because everyone reaches Terminus.  Mix in some Rick going rogue in one harrowing scene and then using his policeman skills in another, Daryl read to kick ass and throw down for loyalty and the reuniting of the entire clan has this episode itching me to see what happens next.
Favorite Character: Jeff Kober, former "Out Of Bounds" baddie, plays a calm yet creepy part as Joe the leader of a band of thugs that Daryl gets hooked up with.
Best Feature: Of course it's the featurette 'Inside KNB' that has Greg Nicotero and his effects gang in the KNB studios waxing nostalgic about everything from cool sight gags (the zombie moss man rules!) to famed zombie cameos (it's BUB!!!) – fascinating. (The doc 'A Journey Back to Brutality' comes a close second with its examination of all things brutal!)
Best Hidden Gem: In the 'Making of the Walking Dead' featurette for Episode 16 called 'A' we learn that the room with the writing inside Terminus is indeed...a church!
Worth the Moola: Not the best season, but certainly not the worst, its David Morrissey's work that shines brightest.