Blu-ray Review: 'The Virginian'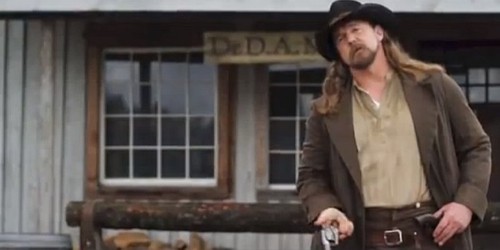 Ready to get reacquainted with the code of the old west?  Then follow us as we check out the new to Blu-ray flick "The Virginian" out now from Cinedigm / Nassar Group North.  We tip our hats and review the cowboys below.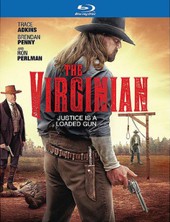 Title: "The Virginian"
   Grade: 3
   Cast: Trace Adkins, Brendan Penny, Ron Perlman
   Director: Thomas Makowski
   Rating: Not Rated
   Runtime: 94 minutes
   Release Company: Cinedigm / Nassar Group North
   Website: www.cinedigm.com
The Flick: I'd never really heard of Trace Adkins (not a big country music guy!) the lead man in this wild west flick, but as a story "The Virginian" has been done numerous times over the years.  Fortunately it's the inclusion of the tough and sullen Adkins that elevates this from yet another version of the same.  His big man of few words is an impending force for sure and clashes nicely with the more reserved aspects of the character.  Plus his supporting cast – sidekick Brendan Penny, teacher crush Victoria Pratt – is interesting enough to make this version worth checking out.  There are some slow moments via Director Thomas Makowski, but overall a decent rendition.
Best Feature: There's a short 'Making of' with a few interviews that's so-so – nice to see that Trace is a humble guy in real life though!  (When he got offered the film he asked which role they wanted him for!)
Best Hidden Gem: Ron Perlman does his cool dramatic thing in the form of the heavy-handed Judge Henry – "Hellboy" with a hat.
Worth the Moola: Up for some old school quiet guys, polite and pretty gals western flick – this Virginian's got your number.