Blu-ray Review: 'The Violent Kind'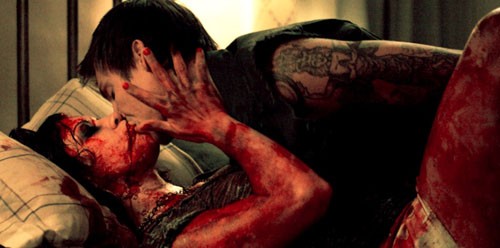 Ever see a film so disturbing it almost turned you away, but was so inventive that you couldn't turn it off?  We're taking time to pay homage to all such things different (good…and bad!) with a review of the highly unusual movie "The Violent Kind" on Blu-ray from Image Entertainment.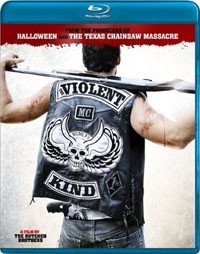 Title: "The Violent Kind"
   Grade: 3 1/2
   Cast: Cory Knauf, Bret Roberts, Tiffany Shepis
   Director: The Butcher Brothers
   Rating: R
   Runtime: 89 minutes
   Release Company: Image Entertainment
   Website: www.image-entertainment.com  
The Flick: I can honestly say that in all my long years of film viewing and reviewing, I have never witnessed a movie more strange, complex or multi-faceted as "The Violent Kind" – it's wholly original.  Not that it's altogether flawless, as there are some unsettlingly bloody moments (the violence feels horribly real - and sometimes out of place) and an overall uncomfortable-to-watch vibe.  But any film that starts off as an homage to "Sons of Anarchy" (Cory Knauf is a pitch perfect biker type!), then turns into a zombie undead film (Scream Queen Tiffany Shepis steals the 'bloody' show!), transitions into a home invasion torture fest (Joe Egender's creepy Elvis psycho is haunting work!) and finally a supernatural invasion picture (huh?!?!) is one imaginative flick that deserves to be singled out.  Sick and twisted as ever, at least the helming Butcher Brothers keep things unpleasantly innovative.   
Best Feature: A Making-of does have some cool footage of how Shepis got up the wall so damn high, but frankly I missed having insight or a commentary from the two demented directors about their uniquely sick outing.  Explain yourselves!
Best Hidden Gem: That friggin' character of Jazz, who's like Dean Stockwell's "Blue Velvet" character suave Ben – with an angry side. 
Worth the Moola: I don't think I could sit through this one in multiple viewings (I'm not a glutton for the red stuff!) so purchase is out.  But to rent once if you can stomach the atrocities amidst crazed innovative ideas – do it and enjoy.