Blu-ray Review: 'The Slumber Party Massacre'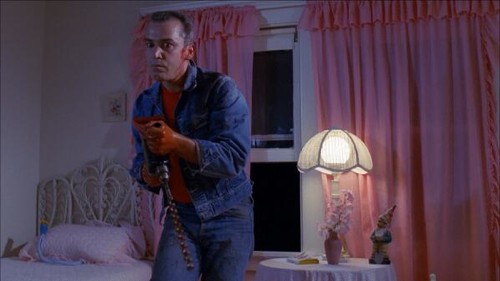 What's a party without girls, giggles and some drill mayhem?  We're checking out the now on Blu-ray 80's slasher flick "The Slumber Party Massacre" out from Scream Factory the genre division of Shout! Factory.  Put your party face on – we review it below!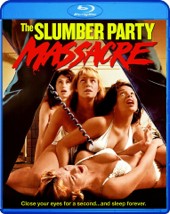 Title: "The Slumber Party Massacre"
   Grade: 3 1/2
   Cast: Michele Michaels, Robin Stille, Michael Villeta
   Director: Amy Holden Jones
   Rating: R
   Runtime: 77 minutes
   Release Company: Shout! Factory Home Entertainment
   Website: www.shoutfactory.com
The Flick: Anyone who has seen this knows exactly what they're getting.  Naked gals, drill carnage and mayhem and a killer out of his mind.  They tout this one as being written by Feminist Activist Rita Mae Brown but even she would blush from some of the gratuitous shots of ass in the shower.  Good news is the cheese factor is ripe here and there's some fine aged cheddar to be had in the form of bad guy and drill helmsman Michael Villeta who give one nutburger inspired performance.  The rest is good for a late night fest of blood, broads and fun. (Plus early Brinke Stevens alert!)
Best Feature: All the interview bits with Michael Villeta are so interesting (he separated himself from everyone on-set method style!) and insightful (his acting bird of choice – the peacock!), yet he's totally down to earth – go figure!
Best Hidden Gem: On the flip side there's one odd and strange interview with Massacre neighbor Rigg Kennedy that's one whacked out feature.  (He should have taken the role of the drill killer!)
Worth the Moola: Females, flesh and fun, what you see here is what you get!  (Oh my god – "The Slumber Party Massacre!")