Blu-ray Review: 'The Sacrament'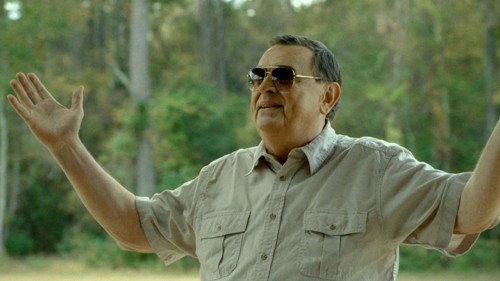 Ti West.  Cult village.  Horror.  Nuff said.  We're checking out the new to Blu-ray creep fest "The Sacrament" available August 19 from Magnolia Home Entertainment.  The events at Eden Parish get reviewed below!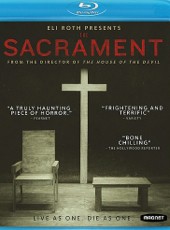 Title: "The Sacrament"
   Grade: 4
   Cast: AJ Bowen, Joe Swanberg, Gene Jones
   Director: Ti West
   Rating: R
   Runtime: 99 minutes
   Release Company: Magnolia Home Entertainment
   Website: www.magpictures.com
The Flick: Much like I said in the theatrical review, filmmaker Ti West just keeps getting better and better with every film.  "The Sacrament" is yet another example of the accomplished cinematic palate of West and even with its so-so found footage angle still manages to be extremely effective.  Plus the cast from West regulars AJ Bowen and Joe Swanberg as the team investigating the not-what-it-seems cult to Amy Seimetz as the influenced host all provide a little extra realism.  But it's the scene stealing work by cult leader Father, played with creepy charisma by Gene Jones, that brings this horror of this one home.  So compelling, so riveting and so magnetic is Jones's work that by the end the audience almost goes along with him.  Almost.  
Best Feature: Loved the doc 'Working with the Director: The Ti West Experience' where folks on the cast and crew talk about working alongside the newest horror auteur.
Best Hidden Gem: Again, the power of Gene Jones is enough to make anyone drop ship and follow.  But I have a full on Ti West cover complaint.  "House of the Devil" came in a cool VHS clamshell version and "The Innkeepers" in a collectable LP case with the one-sheet poster.  What's with the bland and basic blu-ray cover for this flick – collectable rip off!
Worth the Moola: Great tension, great horror, great performances and all under the ample and watchful eye of Hitchcock-ian style filmmaker Ti West – pledge to own this one!  (If there is no cool box coming!)