Blu-ray Review: 'The Princess Diaries 2-Movie Collection'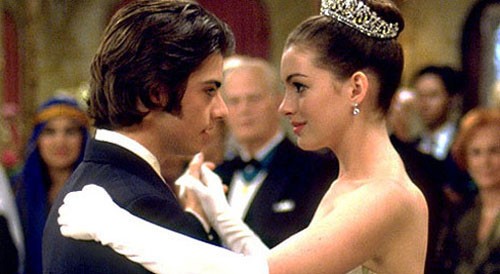 Ready to re-visit the land of becoming a princess...times two?  We're taking a look at the new "The Princess Diaries 2-Movie Collection" in a 10th Anniversary Blu-ray release from Walt Disney Home Entertainment.  The royal review lies below.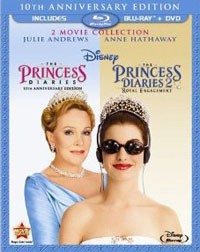 Title: "The Princess Diaries 2-Movie Collection"
   Cast: Anne Hathaway, Julie Andrews, Hector Elizondo
   Director: Garry Marshall
   Rating: G
   Release Company: Walt Disney Home Entertainment
   Website: www.DisneyBluray.com
Grade: 4
The Flick: Okay, there's definitely some heavy schmaltz in this rags to riches tale about a nerdy gal who finds out she comes from royal ancestry.  But it's the charming work by a young Anne Hathaway that seals the deal and makes this one a winner.  (Plus I actually liked the whole Mandy Moore mean is bad message here!)  Of course Director Garry Marshall the master of the fabulous side character (as he so amply showed in flicks like Pretty Woman!) perfectly fills out the rest of the cast including a refined grandmother (Julie Andrews was born to play a queen!), quirky best friend (Welcome to the Dollhouse alum Heather Matarazzo!) and somber yet wise security man (Marshall staple Hector Elizondo!) and makes the flick a memorable one all around - funny, cute and quaint.
Best Feature: Any Garry Marshall film always has great 'Outtakes' - this one is no different.
"The Princess Diaries 2: Royal Engagement"
Grade: 2
The Flick: Unfortunately this one feels like a barren shell of the first film – a cash cow ready to be milked.  Gone is the unforced work of Hathaway who phones it in over-the-top style, best friend Matarazzo is relegated to a few one-liners and any message is muddled under a sea of stereotypes.  Even the chemistry between Hathaway and Star Trek's Chris Pine feels forced and doesn't hold half the heat of the first films' romance.  Trite, sappy and unfun, the Royal Engagement is a sadly familiar affair.
Best Feature: Even the Royal Bloopers can't help this one regain the crown.
Worth the Moola: For those who must have the set no matter what, the Royal Blu-ray awaits.  For those with a finer cinematic palate, one helping is enough here.