Blu-ray Review: 'The Place Beyond The Pines'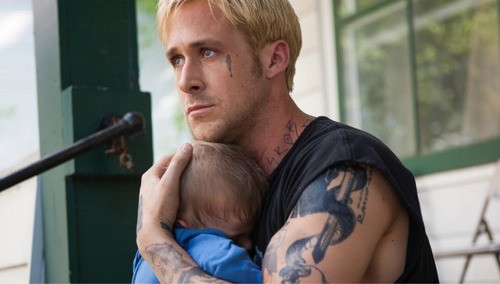 Drama, family and consequences - all spanning lifetimes.  We're checking out the new to Blu-ray drama "The Place Beyond The Pines" out now from Universal Home Entertainment.  The place beyond gets illuminated and reviewed below!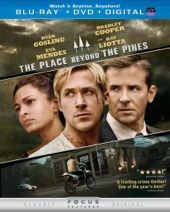 Title: "The Place Beyond The Pines"
   Grade: 2
   Cast: Ryan Gosling, Bradley Cooper, Eva Mendes
   Director: Derek Cianfrance
   Rating: R
   Runtime: 141 minutes
   Release Company: Universal Home Entertainment
   Website: www.UniversalHiDef.com
The Flick: With some great acting and the similar real-life vibe that Director Derek Cianfrance had with his previous outing "Blue Valentine," what becomes the undoing of the seemingly winning "The Place Beyond The Pines" is length.  Not that two very different stories cannot be told within the same film, but Cianfrance drags out both stories here and as a result the film feels overblown.  The opening storyline involving a bank robbing Ryan Gosling trying to be in the life of a new baby he just discovered is his is the best of the bunch as Gosling and Cianfrance do get the best out of each other.  (Plus even the normally stoic Eva Mendes makes a great turn here!)  Things do start to drag when Bradley Cooper and his moral cop storyline enter the picture and from there the film heads right into inflated flick land.  Too much of a good thing is never wise – especially in cinema. 
Best Feature: By contrast the 'Commentary' by Director Derek Cianfrance is a full-length track well worth listening to as Derek points out everything from salacious stories (his original DP had a dream he died making the film and promptly left!) to great learning lessons (Gosling wanted to remove the formerly thought cool face tattoo to which Cianfrance told him no and to use it!) – candid and honest kills everytime. 
Best Hidden Gem: Again I have to give credit to Mendes whom I'm not a huge fan of – I loved her work in this film!
Worth the Moola: A hearty meal of great acting, engaging story and a refreshingly real vibe should never make the viewer feel over-stuffed – always trim the fat filmmakers.