Blu-ray Review: 'The Muppets'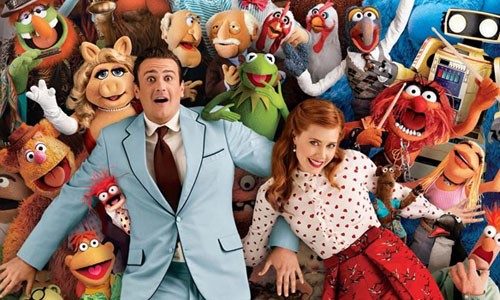 Can the likes of Jason Segel and Amy Adams bring the glory of the famed Jim Henson critters to a new audience?  We're gonna check it out in the form of the new to Blu-ray release of "The Muppets," out now from Walt Disney Home Entertainment.  Why don't we get things started!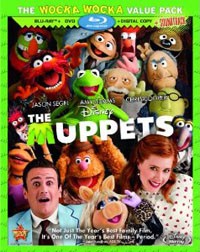 Title: "The Muppets"
   Grade: 3 1/2
   Cast: Jason Segel, Amy Adams, Chris Cooper
   Director: James Bobin
   Rating: PG
   Runtime: 103 minutes
   Release Company: Walt Disney Home Entertainment
   Website: www.Disney.com/Muppets
The Flick: The new film that definitely seems like a love letter to all things Muppets is a bit of a double-edged sword.  On the one hand I get why the likes of Jason Segel, Amy Adams and Chris Cooper are important to resurrecting and securing an audience for this material and they're all fine in their over the top roles.  But it also takes away from the original draw of this flick – namely the Muppets themselves.  So why we do get ample time with leads Kermit, Miss Piggy and Fozzie Bear, the more colorful characters like Beaker (my personal favorite!), The Swedish Chef and Animal get only a few meager scenes.  (Plus new character Walter is a bit of a Muppet dud!)  I understand you can't have one without the other (a running theme in the film itself as well!), but sometimes simply a good "Bork, bork, bork" is better than a song and dance number.
Best Feature: The 'Longest Blooper Reel Ever Made' does feature some great moments with both human and Muppet kind alike!
Best Hidden Gem: A zany and fun Jack Black shows up as a kidnapped celebrity used to get people to watch the Muppet telethon – life imitating art!
Worth the Moola: Having grown up with these guys, I'll watch anything Muppet related – just wish there was more string than song.