Blu-ray Review: 'The King's Speech'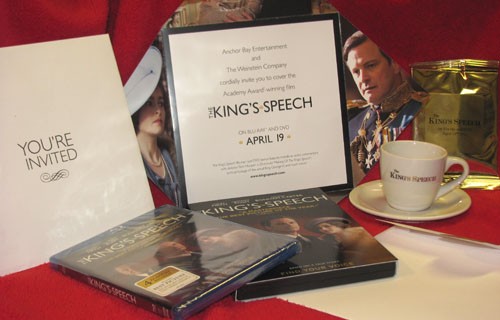 A DVD, Blu-ray, gold-sealed invitation, printed cup, saucer and assorted teas – Anchor Bay and the Weinstein Company know how to release an Oscar winner.  Arriving in an inconspicuous brown box, the collectible goodies accompanied both the DVD and Blu-ray release of the 2011 Academy Award winning Best Picture "The King's Speech" (hitting shelves April 19!), making it a classy affair all the way.  Marking the Weinstein Bros. return to gold statue form, the film captured the hearts of the Academy and is now heading for home release.  We're gonna take a gander at the flick (both Blu-ray and DVD have the same features – so we'll stick to Blu-ray!), as well as some of the "kingly" features within.  So bow your heads and pay respect – royalty is entering the room.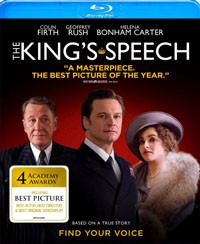 Title: "The King's Speech"
   Grade: 4
   Cast: Colin Firth, Geoffrey Rush, Helena Bonham Carter
   Director: Tom Hooper
   Rating: R
   Runtime: 119 minutes
   Release Company: Anchor Bay Entertainment
   Website: www.anchorbayent.com
The Flick: Sometimes it's the small triumphs that provide the biggest payoff and "The King's Speech" is a fine example.  Taking a simple story about a speech speaking king trying to fix his atrocious stutter is elevated on every level by the supporting material; namely top-notch performances, stunning cinematography and direction to die for.  Under the detailed wing of Tom Hooper, the film soars in both style and substance – think big feel on a small budget.  Plus the cast is a who's who of talent including Colin Firth as the ailing king, Helena Bonham Carter as his supportive wife, Guy Pierce as his flippant brother, Michael Gambon as the authoritative father and most of all movie stealing Geoffrey Rush as the sassy speech teacher – all shine.  Steeped in historical significance, all the while being essentially a tale about two unlikely friends, this king of few words has much to say.   
Best Feature: The soothing commentary track by Director Tom Hooper who chats up everything from motivations and ideas behind his choices to tasty tidbits (Firth actually agreed to put seven marbles in his mouth!) – a fine listen.
Best Hidden Gem: The actual audio tape recording of the final speech given in the film by the real King George VI – riveting.
Worth the Moola: Not sure if the Blu-ray adds any of its fine features to the film itself but if you're a purist this flick is worth the bread. 
_____________________________________________________________________________________________
"The King's Speech" hits DVD and Blu-ray on April 19.