Blu-ray Review: 'The Horror Show'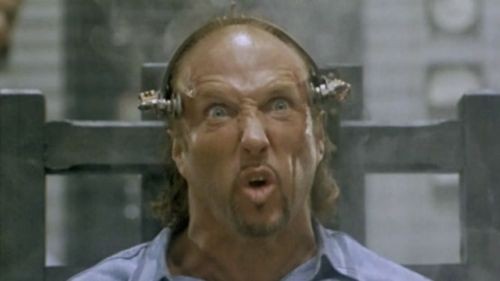 One serial killer.  One Cop.  One meat cleaver.  We're checking out the new to Blu-ray slasher flick "The Horror Show" out now from Shout! Factory's horror division Scream Factory.  We hack through the horror below!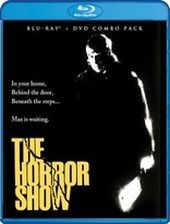 Title: "The Horror Show"
   Grade: 3
   Cast: Lance Henriksen, Brion James, Rita Taggart
   Director: James Isaac
   Rating: R
   Runtime: 95 minutes
   Release Company: Shout! Factory Home Entertainment
   Website: www.shoutfactory.com
The Flick: "The Horror Show" is like a poor man's "Shocker" (the Wes Craven flick that followed this outing) with Brion James taking on the Horace Pinker-esk role as baddie Meat Cleaver Max and a young Lance Henriksen playing the cop obsessed with taking him down.  While not as fluid as "Shocker," Show does sport some killer scares (nothing freaks me out more then James in a wig!), a death scene to remember (Show's electric chair scene does top Craven's for sure!) and the insane late great James at his vicious best.  (Love to see him and Pinker go head to head!)  Forget the whole possible "House 3" connection – this is a flick that stands on it's own.
Best Feature: Both the 'Rita Taggart Interview' and 'Sean Cunningham Commentary' talk quite honestly about the firing of filmmaker David Blyth and hiring of James Isaac – creative differences indeed.
Best Hidden Gem: Love seeing an early and always-luscious Dedee Pfeiffer playing Henriksen's frisky daughter.
Worth the Moola: Some good, some bad, but this show goes on.